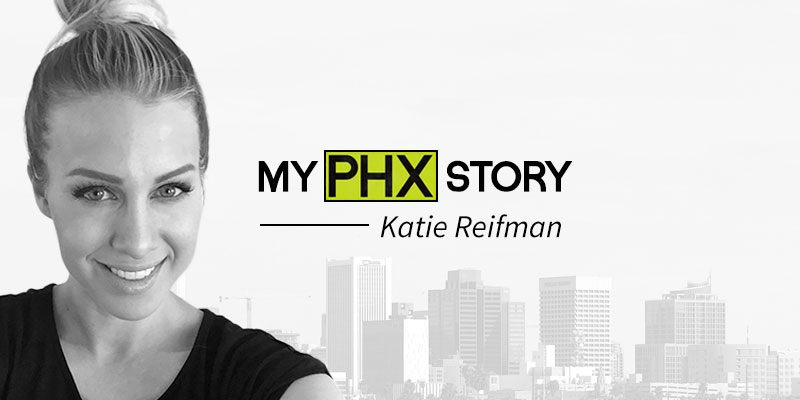 19 Jul

My Phoenix Story: Katie Reifman

I had bittersweet feelings as I drove eastbound through Los Angeles.

On the one hand, traffic was actually moving, which is rare in LA. On the other hand, these were my last moments in the city as a resident. I had just wrapped up a call with my best girlfriend. She was crying and told me that my departure was surreal and she chose not to accept it.

Saying goodbye to friends–and a city—is tough, but I was also excited for what the future held. As I checked my rearview mirror, I caught a glimpse of the Los Angeles skyline behind me. It glistened with smog, as if to wave "goodbye." This was over a year ago.
My Decision to Move
It took me a long time to get here. I say that both literally and figuratively. Leaving Los Angeles and migrating to Arizona was no easy task. As a Wildcat, I was familiar with life in the desert, but never in a million years did I think I would move back. I had the quintessential LA life: a great condo in the heart of Studio City, amazing friends that always had an 'in' to the hottest events around town, and a wonderful job that offered incredible perks.
Despite all this, I never truly felt fulfilled LA instills a dream in its residents, one that always keeps them chasing the impossible. There's always something better to be found. A better job, a trendier neighborhood to live in, a prettier wife, or girlfriend (or girlfriends), etc. The list goes on and on. This mindset is not only unrealistic, but poses impossible if one ever wants to, well, relax. Angelenos work to live and live to work, and nobody knows how to stop and smell the roses. That is why there is a massage shop on literally every corner in LA. But I digress…
Settling Down in Phoenix
Then one day, it finally happened. I call it my 'Mariah Carey' moment. I woke up, and said to myself, "I'm done." I was over it. I literally couldn't even. Within 6 months, I sold my condo, and had a job lined up, and a rental home in the Valley of the Sun!
This past year has been quite the adventure. Both my mind and soul have gone through the Los Angeles detox. I've learned how to say "hello" to people when I am grocery shopping. The first time somebody struck up a conversation with me at Trader Joes, I thought they were trying to pick a fight! I've also learned that it is okay to sit at home and relax.
Los Angeles instills an incessant case of "FOMO" no matter your age, gender, or location. I recently bought a house in the historic district of Coronado. I've fallen in love with the neighborhood. I've even started my own succulent garden. I've met my amazing neighbors who have welcomed me into this community with open arms.
The desert has become my sanctuary, and for the first time in my adult life, I have learned how to breathe. I love downtown Phoenix; I couldn't live anywhere else. It is like a little slice of Los Angeles without the traffic, smog, attitude, or high price tags. And it's so much cleaner!
There is a sense of pride here that makes you want to show off what we have and push to make it even greater. The restaurants, bars, art galleries, and most importantly, the people, are what make this city beautiful. I have no desire to leave. When my LA friends come to visit, they are shocked to see what a wonderful city I now call home. I already have one friend that is planning his own migration out here.
Like I said, it took me a long time to get here…and I am okay with that.