11 Nov

3 Empty Downtown Phoenix Sites: Submit your Ideas!

Project Rising Phoenix is coordinating a Call for Ideas for three key downtown Phoenix properties – two adaptive reuse projects and one vacant lot – with strong potential for multiple uses.
Luhrs City Center Arcade, Jefferson St., between 1st Ave & Central Ave
Regency Garage Edge (aka Matador Restaurant space), 125 E. Adams St.
Adams Street Lot, SE corner, Adams St & Central Ave
Developer Goal: Create dynamic project concepts to activate the space(s) and bring vibrancy to a downtown undergoing significant revitalization.
More photographs of each project site are located at http://on.fb.me/1b1WMQr
If you're interested in submitting an idea to Project Rising, you'll find more information here.
Project Profiles

1. Luhrs City Center Arcade
The Site: The Luhrs City Center is situated on the original townsite of Phoenix, between Central and First avenues, and Jefferson and Madison streets. The City Center is a mixed-use complex that includes two historic office towers (the 1924 Luhrs Building and 1929 Luhrs Tower), retail, a parking garage, and a future hotel. The historic Arcade, along the north façade, was formerly used as a post office. The location is walkable and bikeable, with westbound and eastbound light rail stops on Washington Street, at Central and First Avenue respectively.
The Scene: The Luhrs Arcade is approximately 4,500 square foot total. Bitter & Twisted, a new hip restaurant/mixology establishment, is opening in the Luhrs Building at Jefferson and Central. Major nearby attractions include CityScape, the Phoenix Convention Center, US Airways Center, and Chase Field. The CityScape Residences above the Hotel Palomar are now taking reservations.
The Owner's Goal: Open up the three retail spaces into one marketplace for local businesses, ala the "Union at Biltmore." The original vision called for multiple eateries, perhaps a "bricks and mortar" home for food truck businesses. The retail space will serve multiple office and residential towers, and hotel and convention visitors. There is a prospective master lessee and operator/manager team for the marketplace.

Adams Street Projects
Background: Both the Regency Garage Edge (aka Matador Restaurant space) and Adams Street Lot are part of the recently completed Adams Street Activation Study performed by Gensler Architects for the City of Phoenix. The study consisted of 30 stakeholder meetings and four public charrettes with over 100 attendees including residents, downtown workers, business owners and operators, college students, neighborhood organizations, community groups, and media.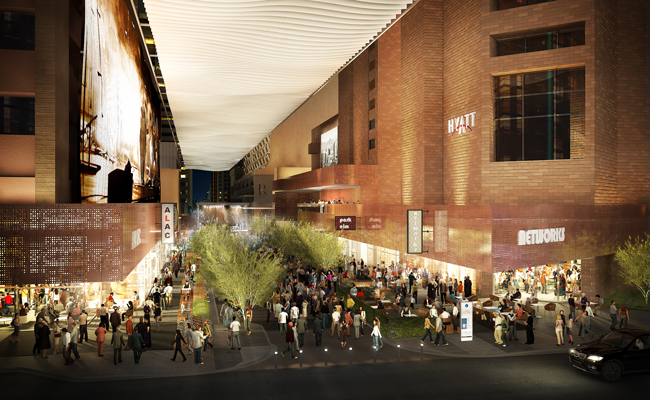 A summary of the activation study is available here: http://on.fb.me/HDvW8M The City of Phoenix, owner of both properties, intends to issue a solicitation in early 2014. Including both sites in the Project Rising Phoenix accelerator will (a) produce viable community-based projects to submit as a response to the solicitations and (b) represent an innovative example of a private-public partnership.
The Scene: Constituents for these sites are the growing number of residents, workers, hotel and convention visitors, and college students (ASU, UA, and Phoenix College of Law) in a resurgent downtown Phoenix. These projects also present an opportunity to connect downtown's growing arts and culture scene. Area attractions and light rail stops are the same as those for the Luhrs City Center Arcade project.
The Owner's Goal: Businesses that generate tax revenue to support civic services and attract residents from the surrounding neighborhoods to create year-round vibrancy. The vision for Adams is a street that promotes connectivity, diverse users, walkability, authenticity, and synergy, and that changes and adapts from time to time.

2. Regency Garage Edge (aka The Matador Restaurant)
This site is situated on the southeast corner of Adams and First streets, adjacent to Steve's Grill, Arizona Latino Arts & Cultural Center (ALAC), and Regency Garage, all across the street from Hyatt Regency Phoenix. The space can be accessed of Adams and First streets. The former tenant, the Matador Restaurant, closed March 2012 after operating in the space for 35 years. Substantial interior improvements are needed for the space, which is large enough to accommodate multiple businesses.
Adams Street Activation Study recommendation: Renovate, occupy, and activate the space; encourage restaurants and other uses to support and enhance activity on Adams Street.

3. Adams Street Lot
This site is situated on the southeast corner of Adams Street and Central Avenue, adjacent to Hanny's and the One Renaissance Tower, and across the street from the Renaissance Phoenix Downtown Hotel. The total lot square footage is 26,193. Creative parking solutions will need to be considered.
Adams Street Activation Study recommendation: Mixed-use mid-rise with restaurants or grocery at street level and residential above.