09 Dec

A Very Merry Ugly Sweater Urban Walk

A little bit of Holiday Cheer + Walking + Downtown Phoenix = A Very Merry Ugly Sweater Urban Walk.

A few months ago, Nicholas Tsontakis of Walking Phoenix got together with This Could Be Phoenix co-founder, Quinn Whissen to see if they could join forces with a walking event in downtown Phoenix. Walking Phoenix has held previous walks that have taken attendees from North Central Phoenix to Downtown and from Arcadia to the Biltmore with a mission to help showcase all of the developments that the Phoenix Metropolitan Area has to offer. After a brief meeting, A Very Merry Ugly Sweater Urban Walk was born!

This Saturday the 12th, This Could Be Phoenix and Walking Phoenix are working together to bring you an urban walking tour that highlights the unique areas of our downtown core. From historic buildings to vacant lots, warehouses to new residential buildings, our 4 mile walk will take you on a guided tour of the variety of places and spaces in downtown Phoenix.

We will have three stops with speakers who will talk about their projects:
New residential developments in the historic Roosevelt Neighborhood by MetroWest, with speaker Matt Seaman
A recently preserved warehouse, with speakers from Gould Evans, Krista Shepherd and Melissa Alexander
A community garden (GrowHouse) in the Roosevelt Row Arts District, with speaker Kenny Barrett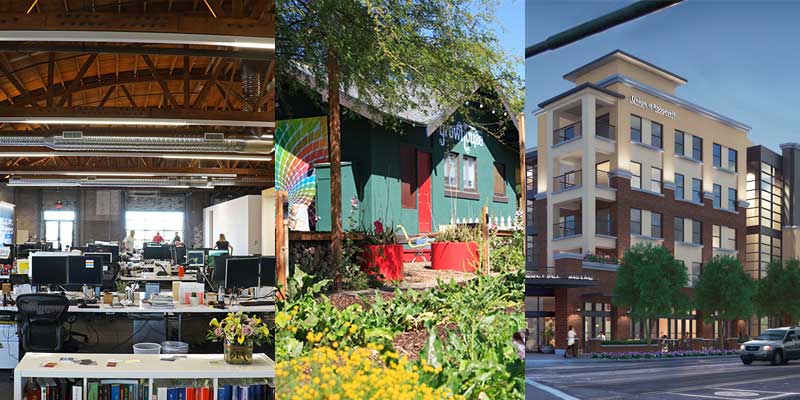 At the halfway mark, we will be stopping for water and light refreshments. Our tour will conclude at the Phoenix Center For the Arts, and we encourage attendees to check out the Phoenix Festival of the Arts that's happening just afterwards.
But the walk isn't only about highlighting trends in urban development and promoting the health benefits of walking. It's also about giving back. In the spirit of giving, we will be collecting donations for Phoenix Center For the Arts. The center provides a variety of opportunities to participate in the visual and performing arts through classes, programming, and events. Classes are available for youth and adults throughout the year.
Admission to the walk is free, however, we encourage you to donate – tis the season! We will also be selling raffle tickets for $5. The raffle prizes include a Free Class at Phoenix Center for the arts (two available! value: $250/class). Proceeds from the raffle will be donated to Phoenix Center for the Arts. Wear your ugly sweater and receive one free raffle ticket!
To find out more, get a ticket, or make a donation visit the Eventbrite link – https://www.eventbrite.com/e/a-very-merry-ugly-sweater-urban-walk-tickets-19522771134
Walking Route