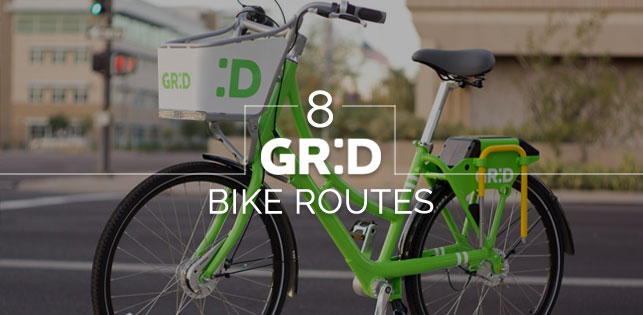 30 Apr

Explore Phoenix with these 8 Grid Bikes Routes

Lately, everywhere you look is a rack full of bright green bikes sporting smiley-face emoticons.

It's Grid Bikes, a bike-share program that launched in Phoenix late last year. The majority of the program's nearly 40 stations and 500 bicycles are clustered in Downtown and Midtown, and there are four different payment options: $5 hourly, $30 monthly, or $79 annually, with a student rate of $59 annually. The paid memberships all offer 60 free minutes of riding time per day.

We've put together some of our favorite Grid Bikes rides and destinations. If you're looking for a fun ride, use these maps and routes to start your journey.
For the Temporary Tourist
Spend a day being a tourist in your own city. Start with a hearty breakfast at Matt's Big Breakfast, then check out the arts district at Roosevelt Row — be sure to stop into Lawn Gnome Publishing and Made Art Boutique on 5th Street, as well as Eye lounge and Modified Arts just around the corner. After that, it's lunch on the patio at The Vig Fillmore and an afternoon at the Arizona Science Center. The cherry on top is dinner at Pizzeria Bianco, one of Phoenix's most widely renowned restaurants (we recommend making a reservation in advance).
Distance: 2.7 miles
Riding time: 18 minutes
Cost: $1.50
For the Weekend Warriors
Phoenix is at its best on Saturday mornings. Start with free community yoga at Civic Space park, followed by a leisurely brunch at Paz Cantina and a stroll around the open-air Phoenix Public Market. Top it off with a short ride over to the AMC theater to catch a matinee of the latest flick.
Distance: 1.6 miles
Riding time: 9 minutes
Cost: $0.75
For the Art Afficionado
Phoenix art isn't just relegated to First Friday art walks anymore. From museums to galleries to oddball film screenings, this ride has everything the critic's heart could desire. Start by checking out free Culture Passes for the museum of your choice at the Burton Barr Central Library. From there, take a gander at the Phoenix Art Museum and the Heard Museum. The many galleries on Roosevelt Street and Grand Avenue are sure to satisfy whatever art cravings remain after your museum tours, and a film and beer at FilmBar are the perfect way to end the day.
Distance: 6 miles
Riding time: 40 minutes
Cost: $3.33
For the Night Owl
Unwind with a cocktail at one of Phoenix's many happy-hour spots, followed by a feature at FilmBar or a show at Crescent Ballroom, and a late-night snack at Welcome Diner.
Distance: 2.7 miles
Riding time: 19 minutes
Cost: $1.58
For the Vintage Enthusiast
Who says there's no shopping in Phoenix? There are tons of locally-owned stops along this boutique-centric ride. Check out Annie Boomer, GrowOp, Mercantile and Clutter House for some retro, vintage finds, or Frances and Bunky Boutique for a more handmade look (be sure to check out Bunky's exclusive line of AZ Love items while you're there).
Distance: 5.1 miles
Riding time: 33 minutes
Cost: $2.75
For the Fitness Fanatic
Phoenix loves its fitness, and thanks to Sutra Midtown and the Downtown YMCA, there is no shortage of classes all over Central Phoenix. Get the most out of your workout by combining any of these biking destinations with a quick jog around Margaret T. Hance Park or Steele Indian School Park.
Distance: 7.6 miles
Riding time: 48 minutes
Cost: $4.00
For the Boozy Biker
Phoenix has seen an explosion lately of microbreweries and handcrafted cocktails. Take a tour of the libations the city has to offer by hitting any combination of these lounges conveniently near Grid Bike stations.
Note: We recommend splitting this ride into multiple trips. Be aware of your alcohol consumption and ride at your own risk.
Distance: 6.8 miles
Riding time: 44 minutes
Cost: $3.66
For The Caffeine Junkie
If you love coffee as much as we do, then this ride is for you. Again, this ride might be best split into multiple trips. But for the true caffeine freak, or for a marathon of remote work sessions, here is a list of the coffee shops and tea houses situated near Grid Bike stations. Want to learn more about Phoenix Coffee Culture? Read the stories of the folks behind your lattes here, and check out our interactive map here.
Distance: 10.6 miles
Riding time: 72 minutes
Cost $6.00
What is your best Grid Bike ride? Which of these routes will you try? Share your favorites in the comments below.