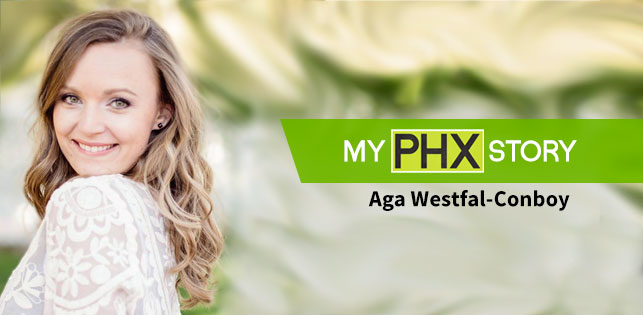 10 Mar

My Phoenix Story: Aga Westfal-Conboy
Poland to Arizona!?!
Yes. It's true. When I was eleven years old, my parents decided to migrate to The Land of Opportunity from Warsaw, Poland to start a new life. As excited as I was, I had no idea of what that meant. All I knew about America was from shows my mom and I watched, like "Dynasty," "Full House," and my favorite – "Beverly Hills 90210". I once asked my dad why people in America drive convertibles and never seem to lock their cars in the movies, he jokingly said: "That's because everyone can afford a car so no need to go stealing another person's car." Cool!
Growing up in North Phoenix
Friday, Dec. 13th, 1994 – the big, scary move. I remember getting off the plane, getting in a car and soaking up the views of Phoenix at night. I noticed large freeways, lots of open spaces and cactus! We began our life in North Phoenix, which seemed cool to a foreign kid at first; but then the summer came. What are you supposed to do in this damn heat!? Luckily our apartment had a pool, so that was my life.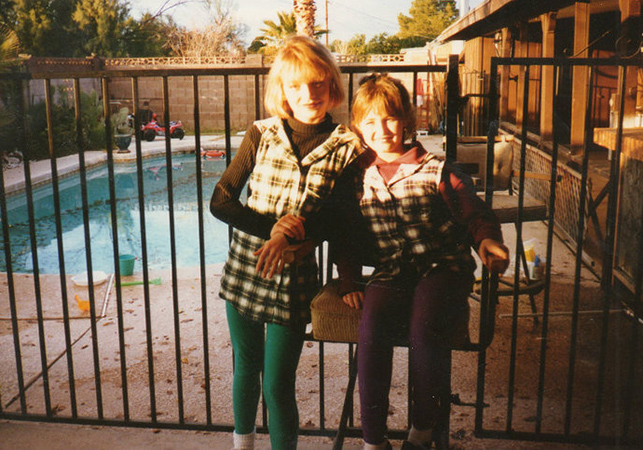 I started school and quickly realized that kids can be cruel at a surprisingly young age. If you talked funny (I was just learning the language), dressed weird (my Polish fashion sense) and had an overall awkwardness about you (story of my life), you were the outcast. Awesome.
I wasn't a big fan of North Phoenix in high school — little to do, no car at the time, no friends in the neighborhood. When I started attending Paradise Valley Community College in 2001, I'd drive to Biltmore area and hang out at the coffee shop in the old Borders book store, just to get out of my little boring bubble. For any entertainment, I had to drive 30 minutes to party in Tempe or Scottsdale, or check out a live show in an obscure spot, which is what you did back then, before Downtown Phoenix got on the map.
I quickly got out of town and transferred to NAU. Best. Decision. Ever. I mean these were MY people — so nice, laid back, open-minded, creative, outdoorsy. I would later realize these people match closely to the vibe of a lot of people I've had the pleasure of meeting in and around Midtown and Downtown Phoenix.
There's a Midtown Phoenix?
I met a nice guy after getting back from a semester abroad. I wasn't ready to quit college, so I thought why not do a Spanish immersion program and try a long distance romance (he lived in Phoenix). Anything to keep me from graduating and becoming a real adult with a big girl job. Turned out this nice guy turned into a serious relationship status so after finally graduating in May 2006, we decided to move in together. Scary!
He had a home in Midtown Phoenix (before Midtown had a brand, I feel like). We were close to the Bridle Path, a tree-lined, beautiful stretch of road between Dunlap and Camelback that was filled with joggers, strollers, and overall prettiness. There was none of that vibe in North Phoenix and I was no longer surrounded by nature in Flagstaff. So here I was, finally getting out and around the neighborhood, enjoying nature, walking the dog and occasionally riding a bike.
And then Windsor opened up on Central Ave. and Camelback, followed by Postino and St. Francis, Lux, and of course, the light rail. Within the span of five years, all of these amazing spots flourished — all fantastic destinations for our bike rides. Like Changing Hands and the First Draft Book Bar where I'm sitting writing this right now. Hubs and I loved doing the Coronado and Willo Home Tours and we soon witnessed the Melrose District being born.
Growing Up is Hard. But it doesn't have to suck.
I finally got a big girl job working for a local nonprofit whose main focus is all about improving the lives of individuals and families in Metro Phoenix. I can get behind that. This after landing a couple, short-lived gigs at local advertising agencies, where my life was all about working 60+ hours per week for a "competitive" salary. Now I feel like I'm making a real difference, right in our community.
I proudly wear my "Localist" t-shirt supporting Local First Arizona and choose to work at local coffee shops like The Refuge, Lux, Copper Star and, of course, First Draft at The Newton, over any big, corporate-owned spots. My work enables me to collaborate with wonderfully creative local people and businesses.
Did I mention the music scene? Patrick and I LOVE checking out live music and with Crescent Ballroom coming on the scene, we're now enjoying most of our favorite local and indie sounds in a more intimate setting. Special credit is due to the one and the only locally operated, awesome music playing, radio station 93.9 FM. Beef Vegan and other personalities on the station do so much good for the local music scene. All for no pay — strictly volunteer basis.
And now, we have a little munchkin who is making friends with kids in the neighborhood. We live around 7th Ave, north of Bethany Home, and LOVE it. I don't know if our little guy will have to deal with a drastic move to another continent, but wherever we are, we'll ensure he feels a sense of community and takes pride in his Phoenix roots.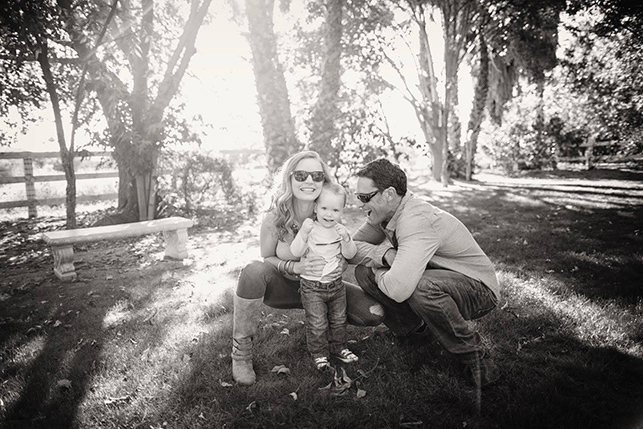 Photo credit: Cheryl Clark with La Bella Vita Photography