21 Feb

My Phoenix Story: Libby Coyner

Before moving to Phoenix, I thought the city was a maze of strip malls and freeways. But since moving here, I've learned about and experienced the city's rich history, bikeable neighborhoods, and welcoming community. Every morning, I wake up and make a French Press while looking out over historic 1934-era Encanto Park. This park in the heart of Phoenix is incredible. It features tennis courts, basketball courts, soccer fields, playgrounds, lagoons, picnic areas, pedal boat rentals, golf courses, walking paths, an amusement park, and if you're lucky, you can even find some Live Action Role Play (complete with costumes!) I love living in the Encanto area because it is so vibrant – I've never seen a park get so much use! People from every different kind of background gather for family time, fitness, and fun, and I get to watch it out of my window. The neighborhood is also perfect for me because it is filled with lovely historic homes, and the owners have a real sense of pride about getting to own a piece of Phoenix history. Of course, probably the biggest perk for me is that the bike lane is right out my front door. I'm a three mile commute to my work at the State Archives, and haven't driven my car to work since last April!
My Context
Like many people you'll meet in Phoenix, I am a transplant. I grew up in the woods of the Idaho Panhandle in a log house. I moved to Portland, Oregon at the age of 19, looking for all of the radical things that Portland had to offer: a music scene, active bicycling culture, and a progressive community of folks who prioritized environmental issues, supporting local business, etc. I also really liked that I was involved in such amazing LGBTQ and feminist communities there, which I felt really empowered women to step out of traditional gender roles – girls played guitars and fixed bikes and served as the City Bicycle Coordinator (yay, Mia Birk!) So while living in Portland, I went to school to learn bicycle mechanics and wheel-building. I also picked up a History degree from Portland State University. After that, I moved to Vancouver, BC to study Archival Studies and Library Science at the University of British Columbia. Vancouver is a beautiful city, but the rain was just about enough to do me in! After grad school, I jumped at the chance to move to the desert at get some sunshine. I really feel like I've found myself here in the desert – some people love the rain, but I'm one of those who just doesn't want to get out of bed after days of gray and rain.
Advocacy and Place-making – or, Why I've Found My Niche in Arizona
A friend of mine in Tucson remarked one time that she loved her city so much because she felt like there was room to shape it in new ways. She said, "some people like to create their own city, and some people like to move to a city that has already been created." There is a kind of place-making that I really love about Phoenix – never before have I lived somewhere that had such an amazing community of people enthusiastic to map our their future. Those who know me well know that there are three aspects of activism and advocacy that are very near and dear to me, and I'm able to find so much meaning and purpose in these areas on a daily basis: bicycling, archives, and cats. I focus on these areas not to pick on Phoenix, but to highlight how I have never seen such an enthusiastic community willing to pitch in to make a difference, as well as one ready to welcome young people and give them opportunities to participate. Never before have I felt so empowered to apply for a mayor's committee, learn about seats of power, or talk to city staff. It all feels very accessible here.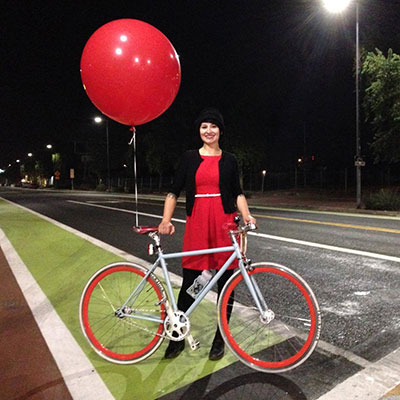 Most people in the downtown Phoenix community know me as a bicycle advocate. I became involved with the Phoenix Spokes People nearly a year ago after sending ranting letters about infrastructure to everyone at ADOT and City of Phoenix that I could find. Fortunately, I've been able to channel that angst into something more positive and useful. One thing I did was join PSP and help form committees for specific tasks. I formed the Bike Fun Committee, inspired by this article on how Portland became so bike-friendly. I believe that a key aspect of driving up ridership, and thus getting the support of city staff and council, is to just organize fun and accessible rides to bring people together to remind them how fun bikes are. We go out to local businesses for drinks or dinner, volunteer at events like Pedal Craft and Tour de Fat, or just dress up fancy and ride. The other area in which I am involved is through my work as an appointed member of the Mayor's Ad Hoc Task Force for the City Wide Bicycle Master Plan. We have a lot to overcome as a city with a history of car culture, but I'm optimistic that Phoenix will come around – our big wide streets leave plenty of room for bicycle infrastructure, and our beautiful weather and lack of hills make it a perfect place for all kinds of people to ride. Stay tuned for exciting things!
Of course, the original reason I came to Phoenix is my work – I am an archivist at the State Archives. I have found such an incredible archives community here in Arizona, and we are truly doing progressive things. I first became interested in archives work for social justice reasons – I felt that it was important to rework how we document ourselves to include our entire communities in the archival narrative…not just those in positions of power. I found a number of kindred spirits here in Arizona, and we work collaboratively on several projects to ensure that wider swaths of our population are being documented, and that the documentation process is far more participatory. Additionally, the archives community has a number of older archivists who are such great mentors, and who are eager support a younger generation of archivists. My boss was even supportive of me when I asked to present on "Tattoos as Personal Archives" at a conference. (I was very proud to be able to present with Nelson Mandela's Archivists, Verne Harris…you can read more about that HERE).
A final piece of activism that will out me as a crazy cat lady is my work with feral cats here. As many people know, Maricopa County has some serious issues with feral cat populations, and I have discovered there is an incredible underground network of nighttime cat feeders who work to control populations through TNR (Trap-Neuter-Return). I am amazed to learn how many compassionate folks can be spotted in industrial areas trapping or feeding cats. How we treat the other creatures that we share the universe with says a lot about who we are.
What I Love About Where I Live
I couldn't have asked for a better neighborhood with Encanto. It's quiet and walkable, but close biking distance to many of my favorite places. I like riding to Phoenix Public Market, Giant Coffee, Shine Coffee, Songbird Coffee (can you tell I like coffee?!), Bragg's Factory Diner, and Angel's Trumpet. In the other directions, I can hop on the Sonoran Bikeway up to Windsor, Postino, Joyride Tacos, and Federal Pizza. I love supporting local businesses, and all of these places are very nice about catering to my vegan and gluten-free diet. When friends from Portland and Vancouver come, I take them to any of these places and they're always impressed! Being the history nerd that I am, I also like that they are all examples of adaptive reuse development, and many of them take advantage of some great midcentury modern architecture. Most importantly, I live close to most of my best friends. We can hop in the saddle and go downtown for food, ride to each others' houses for mimosas and Downton Abbey, or just ride the canals.
Visions for the Future
I will not discount that Phoenix has many troubling aspects – sprawl has had terrible implications in terms of historic preservation, environmental quality, high-speed/dangerous streets, and an often disconnected feel that takes away from sense of community and place. Reclaiming our streets from the suburbs will help us create vibrant neighborhoods in which walking and biking will provide not just health benefits and recreation, but will serve as a viable form of transportation that can combat high costs of road maintenance and parking. Of course, a shift away from the car-centric mentality in Phoenix through political will, staff support, and massive culture change. We already have so many incredible things going on in our city already, and I'm excited to see what the future holds!