01 Oct

My Phoenix Story: Stephanie Kistner

I've been living in LA for going on three years now, and as I see the city evolve, I can't help but think about the similar transformation Downtown Phoenix is going through. When I left Phoenix and my work with Roosevelt Row in 2007, I had no idea how many of the lessons I learned there would apply to my work in arts and culture in other cities.

LA, like Phoenix, suffers from urban sprawl, siloed neighborhoods, and mediocre (though improving) public transportation. Both cities are going through a revitalization of sorts, and lately, I find myself asking how LA and other cities can be more like Phoenix.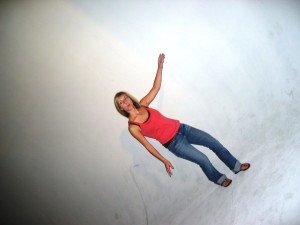 While studying painting at ASU, one of my art history professors suggested that I contact a community development organization called Roosevelt Row. She said they were using the arts as a tool to revitalize Downtown Phoenix and that they were possibly looking for a summer intern. I was intrigued. Downtown Phoenix was a place—having grown up in the North Valley—that had previously only existed to me as place you had to drive to if you wanted to catch a Suns game.
But by the time of my internship, the Downtown Phoenix of my childhood was changing. Artists were moving into the affordable housing that was available there and they were making the city their own.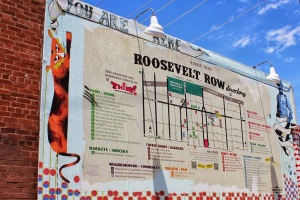 I soon began working with Roosevelt Row to develop the neighborhood's first business directory. That August I walked, and sometimes drove (it was August in Phoenix after all, and this was pre-light rail) from business to business, randomly knocking on doors, introducing myself, explaining what Roosevelt Row was, and asking if they wanted to be a part of the new business directory. "It's free" soon became my opening line when people looked at me skeptically, unsure of what Roosevelt Row was and just what exactly I was asking them to join.
Three things struck me that summer:
1. There really was a lot happening in Downtown Phoenix.
2. No one, even most of the people who lived and worked in the area, knew about what was going on.
3. Artists are the ones who make neighborhoods a place where people want to live and work.
Artists are often catalysts of change: political change, social change, and another kind of change that closely relates to Roosevelt Row's work: Creative Place-making.
"In creative place-making, partners from public, private, nonprofit, and community sectors strategically shape the physical and social character of a neighborhood, town, tribe, city, or region around arts and cultural activities. Creative Placemaking animates public and private spaces, rejuvenates structures and streetscapes, improves local business viability and public safety, and brings diverse people together to celebrate, inspire, and be inspired." – Ann Markusen, Markusen Economic Research Services & Anne Gadwa Nicodemus, Metris Arts Consulting.  From Creative Place-making (http://arts.gov/publications/creative-placemaking)
Like Downtown Phoenix, Roosevelt Row has evolved from its early days, receiving major grants to fund innovative ways to infuse the neighborhood and its economy with the arts. An initial goal of the community development corporation was simply to create a neighborhood directory and website to connect people in order to establish a larger network of creative businesses and to highlight local resources. Through strategic, thoughtful planning, Roosevelt Row is making a significant impact on how we think about designing creative neighborhoods and cities, and is a model for other emerging arts districts around the country.
NEW YORK IN 9 MONTHS
In 2007, after I graduated from ASU, I left Downtown Phoenix to explore a larger urban city: New York. Like many 20-somethings, I needed to spend some time far, far away from the place I grew up. I landed on the other side of the country in Williamsburg, Brooklyn. Artists began moving to Williamsburg in the mid 1990s in large part because of the low rent.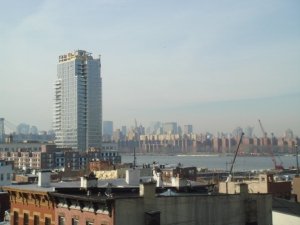 By 2007 the neighborhood had already been transformed by the artists who moved there in the 90's, and investors were beginning to tear down old buildings to make room for their bigger, and more expensive high rises. Today, many artists have moved out of the neighborhood due to inflated rent. The artists who once called Williamsburg home contributed to what eventually made Williamsburg a destination. They added character, they promoted arts and culture, and they helped shape the nature and dialogue of the community.
This phenomenon raises an interesting question: How do we build cities that continue to offer affordable housing so that artists, and other folks, don't have to leave?
This isn't a new story. Artists are playing a central role in the design of their cities, services, and businesses that open their doors there, but then, suddenly, they can no longer afford to live there. This is a complex, yet common issue for "revitalized" cities, and I look at Phoenix and Roosevelt Row as a model for how to create sustainable, diverse neighborhoods that include affordable housing and ensure that artists and other long-term residents and business owners are able to stay in the neighborhoods they helped build.
ON TO A MUCH SMALLER COMMUNITY…
In 2008, I packed up my bags and left Williamsburg for a much smaller community. I joined the Peace Corps and took on a roll as a Community Development Facilitator on a small West Indian island. Reinforcing again what I first learned in Downtown Phoenix, I found that local artists were central to many social, political, and community movements.
I connected people.
I connected artists.
I tried to build networks in order to build community. I worked to develop local festivals, community clean ups, and creative projects. I worked with artists on attempts to revive historic industries such as banana leaf art and basket weaving. The arts build bridges, they inspire, and they make the impossible suddenly seem possible. Thanks to my work with Roosevelt Row in Downtown Phoenix, I already knew this.
TO LOS ANGELES: ARTS AND EDUCATION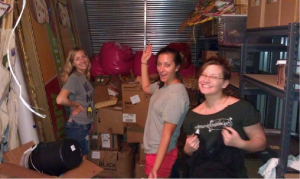 I came back to the U.S. in 2010 to attend a masters program in LA. The plan was to attend graduate school, and then, quite likely, I would return to Phoenix. I finished graduate school over a year ago, and due to various circumstances, I've stayed in LA.
I currently work in arts education and am constantly inspired by the transformative power of the arts and the impact they have on school communities, and whole communities, really.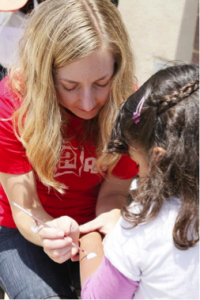 I live in a slowly changing artist district called West Adams near Downtown LA. Downtown LA, like Phoenix, has been re-imagined as an arts district. Venice Beach, where I work, has also recently undergone a transformation thanks to local artists. From Venice Beach to Downtown LA to Silver Lake, the city is full of arts and culture. The problem is, it's all hard to get to and it all seems to exist independently of one another. The cohesion and collaboration that I see happening in Downtown Phoenix happens here to an extent too, but mostly neighborhoods feel isolated. Traffic sucks. It's hard to get around. Staying in your neighborhood is just easier.
YOU CAN TAKE THE GIRL OUT OF PHOENIX, BUT…
Every time I visit Phoenix and ride the light rail, I get giddy. The novelty still hasn't worn off. While the light rail in Phoenix has some expanding to do, I nevertheless boast to Angelenos that Phoenix is more connected than LA. "But it's a DRY heat and there's a LIGHT RAIL."
Los Angeles, and other cities, have a lot to learn from Downtown Phoenix.
YOU CAN TAKE THE GIRL OUT OF PHOENIX. BUT…
Downtown Phoenix is a walkable, diverse, and evolving city. I still visit Phoenix often, and I not so secretly dream of a day when Phoenix and LA are connected by a high speed train. For now, I'll continuing dreaming of that day, and I will look to Phoenix as a model of transformation, rejuvenation, and a city that values artists as vital community members, connectors, and agents of change.