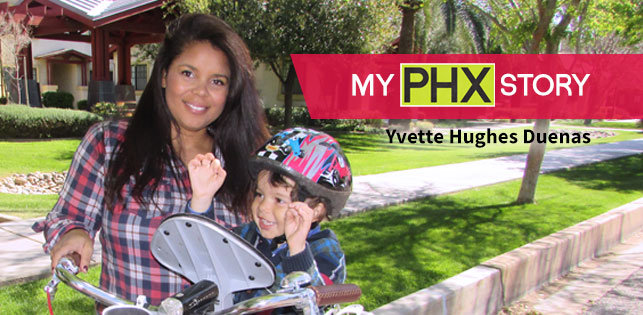 07 Apr

My Phoenix Story: Yvette Hughes-Duenas
The Beginning
My story starts in a small town in London, England, where I was born. My mother, also born in London, had met my father, originally from Nigeria, while he was passing through on his way to America. His dreams to reach the land of opportunity were quickly delayed. My early childhood was spent traveling back and forth from London and Nigeria, which gave me a good idea of what I liked and didn't like about the two countries. When I was nine, we finally made it to America the beautiful, the great, the desert…
Where is America?
It wasn't until I was in high school that I realized we were really in America. We had been living in the place my father spoke so highly of. I couldn't believe that this was it. The weather was hot. It never rained. I couldn't wear my rain coats that I adored in England. There was no canal like the Regent's Canal by my grandmother's. No Broadway Market. I didn't feel the freedom like I felt in Nigeria. The food wasn't nearly as good as the food I was used to. The only thing we did downtown was to go to Woolworth's, a general store…what fun.
San Diego
Coming to America, our plans were not to stop in Arizona. We were supposed to keep moving to California; we were supposed to be on the beach. Those plans fell through. So we vacationed there. Every year, we traveled to San Diego. I fell in love with it there—the architecture, the lush landscape and the coffee shops by the beach. I knew this is where I wanted to be.
Days in Phoenix were gruesome compared to our days on vacation. Things didn't start to change for me until I attended ASU, my eyes slowly opened up around that time. I saw the beauty in Tempe. I even considered moving there or Goodyear, where my parents recently moved. Anywhere but Phoenix.
At this time I was married to my husband Ishmael and had a four-year-old named Jasmine.  We would take our bikes to Tempe Town Lake, have picnics in the park. We tried to do the same things we enjoyed in San Diego. One of my favorite things was to take walks down Murphy's Bridle Path then enjoy a cup of coffee outside La Grande Orange or AJ's Fine Foods with my sister Natasha.  Not quite the same experiences but we tried to get out and find anything similar to our fun times in California.
My City
The need to leave Phoenix wasn't cutting it for me anymore. I could not keep feeling this way. My sister and I would often talk about wanting to just, live. We had this urge to be somewhere else and we realized we were not "living." We came to the conclusion that we are not happy with our city because we think San Diego is where we would enjoy life. We had not been to Portland but we were also intrigued by the way people were living there. We decided this feeling needed to end. We had so much to do here, but we were not seeing it that way.
We did things that were fun. We saw beautiful architecture and lush landscapes … in Phoenix! We rode our bikes to the farmer's market, sipped wine at the (now closed) Urban Wine Bar, and my husband would hold art shows. We were living. If I miss my fish n' chips, I can go to The Codfather. If I have a taste for Nigerian food, Esther's African Cuisine or my cousin's catering is my fix.
Everything I was looking for has been here this whole time, and it's only getting better. We have the best restaurants and so many to choose from and we have a wonderful bicycle community. I now call myself an advocate fighting for better bicycle infrastructure and safer streets. I am making a difference in Phoenix as a Grid Bikes ambassador,  and I am so grateful to have met Phoenix Spokes People, who share this love for my city.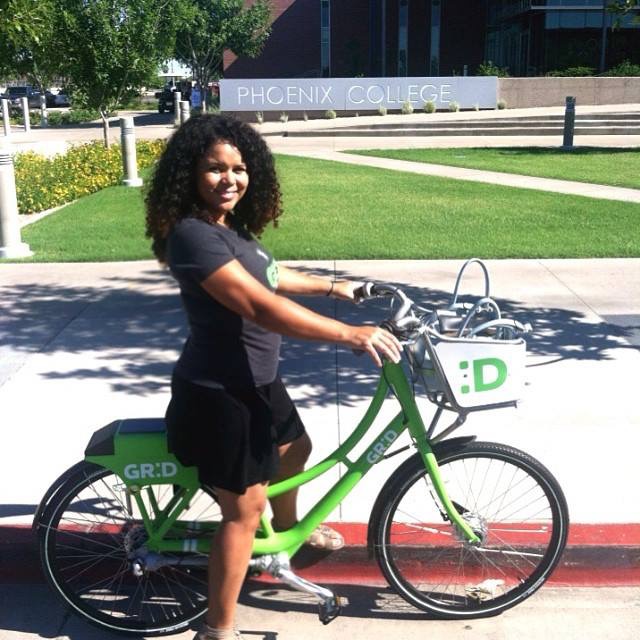 Yes, I love Phoenix. I found myself defending my city to outsiders, the outsiders who live in suburbs. My sister and I felt the need to share this love. We thought about people visiting Phoenix. How would they know where the cool spots were? How about people feeling how we used to feel? We needed to share our love. We created our blog Loving Phoenix to show people what they are missing right under their nose.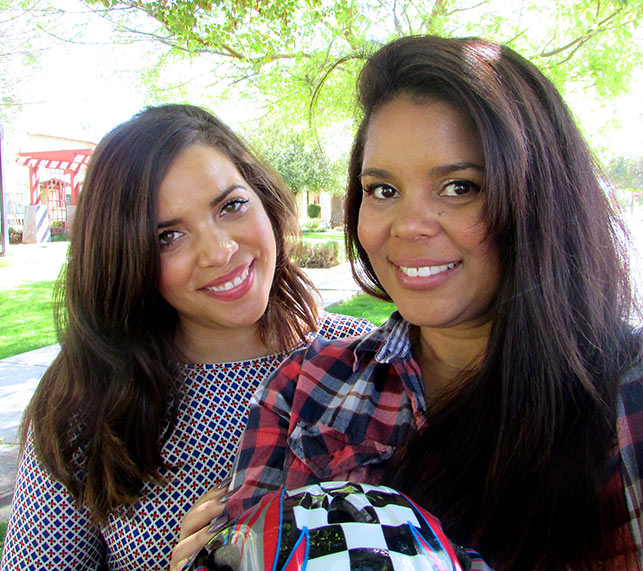 This IS America
Growing up, I was disappointed in my family for not following through with the plans to reach California, where I thought America was. As I've grown and learned to appreciate my home, I realize this is America, we are here and there wasn't a need to move. The grass isn't greener on the other side, you just need to water your side.