06 Nov

My Phoenix Story: Cole Van Norman

Arizona is my home- and the years I have spent living here have truly shaped me as a person.

This integral part of me most likely derived from my parents' adoration for the state. Both my parents were transplants to Arizona. My father's family relocated from Long Island, New York when he was just thirteen years old. Meanwhile, my mother moved to Arizona right after high school from Detroit, Michigan.
An Arizona Childhood
If I had to categorize my father, I would say he is somewhat of an explorer. In his younger years, he took advantage of what the state has to offer including by exploring the various parks, rivers, mountains, and lakes. My fondest childhood memories all include my father's enthusiasm about showing my brother and me everything he had discovered.
I have had the privilege to experience parts of Arizona that most people will never see-or did not even know existed. I developed an understanding early on of how unique Arizona is and how lucky I am to live in a place filled with such beauty. Still to this day, I can't think of a more radiant sunrise or sunset other than those in Arizona. I couldn't imagine starting or finishing my day in any other place-again, this is my home.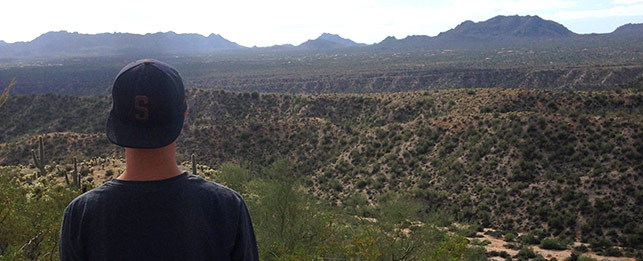 Looking out onto the beautiful Arizona desert
I spent my whole childhood in the same house in the suburbs of the East Valley. My father had acquired the house from his parents before I was born. However, my father was constantly making renovations to our home. In fact, most of my childhood we lived in a construction site. He started to remodel before I was in kindergarten and finally completed his vision when I was in eighth grade. Being able to see the process of taking raw materials and transforming them into functional space hooked me at a very young age. For birthdays and holidays I would ask for power tools, and all sorts of "How To" books. My favorite channel was the "Do it Yourself Network" which showed homeowners how to build and renovate things themselves. Ironically, while flipping through my portfolio of grade school artwork, I noticed that most of the drawings consisted of houses and site layouts. The idea of building became an infatuation of mine and I spent countless hours dreaming that one day I would be a part of building something beautiful.
Urban Explorations
As I got older my perception on the suburbs started to change. I was first exposed to an urban city the summer after high school when I had the opportunity to backpack around Sydney, Australia. This was also the first time I used a mass transit system. When we landed in Sydney there was a train station that was located in the airport. It linked to a larger network of trains which then connected to a ferry and bus system. I remember how impressed I was with the efficiency the interconnectedness of the different forms of transportation.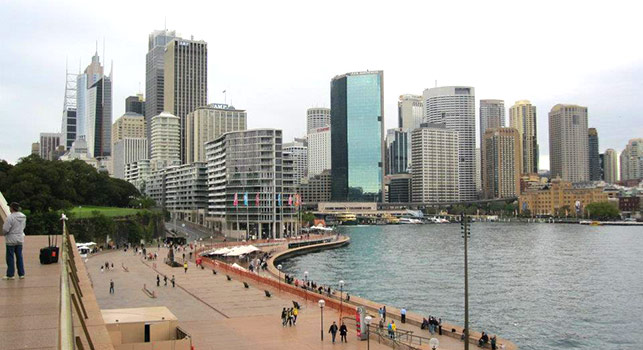 A view of Downtown Sydney from the Opera House
Another aspect that stood out was the idea of being able to walk and ride a bike to most of a person's daily needs and routines. Growing up in Arizona, driving was essential to go anywhere.
It was this experience that truly opened my eyes and for the first time I saw a whole other way of life. Another shift of perception occurred soon after returning from Australia. I made a last minute change in majors at orientation. I switched from the Business school to the school of Sustainability. At the time, I did not realize how big of a change it was but the way I think and act today is partly because of that one decision. The sustainability major was designed to focus on critical thinking. We were never presented with a solution to a question but rather presented a problem and created solutions based on tradeoffs. As I progressed in the major I was able to take courses focused on urban dynamics and planning. I grasped a whole new concept of urban cities and how it could lead to a more sustainable world. At this point I was completely sold on urbanism.
My New Home: Downtown Phoenix
I made the move to Downtown Phoenix the summer before my final year of college. Immediately upon moving in, it felt like I was discovering a hidden treasure that had been buried right under my nose. The only comments I had ever heard about Downtown Phoenix were linked to the baseball stadium or the basketball arena. If someone had tried to tell me anything else about the city, I would never have believed it.
However, since living downtown I have enjoyed a whole new way of life. I walk and ride my bike, eat and support local businesses, and interact with new and old friends. I found myself in a routine of walking my dog to Hance Park in the mornings, playing catch, and grabbing a drink from Lola's coffee shop afterwards. I had found my urban paradise in the desert I called home.
After graduating from ASU in 2012 and working on real estate based projects, I knew I wanted to build a piece of the urban fabric of downtown. I was able to get my father on board for starting a construction development company focused on high dense urban infill development. We were able to acquire land in what the locals call "The Triangle." It gets this name due to its triangle perimeter; Roosevelt to the north, 7th Avenue to the east and the only diagonal street in the entire city Grand Avenue running northwest.
We are in the process of building our first development called the Grand Avenue Lofts which consist of four urban residents on 10th avenue and Fillmore. The idea of once building suburbia has now been replaced with urban infill in downtown. I hope to continue with my passion and parallel this passion with our growing and emerging downtown.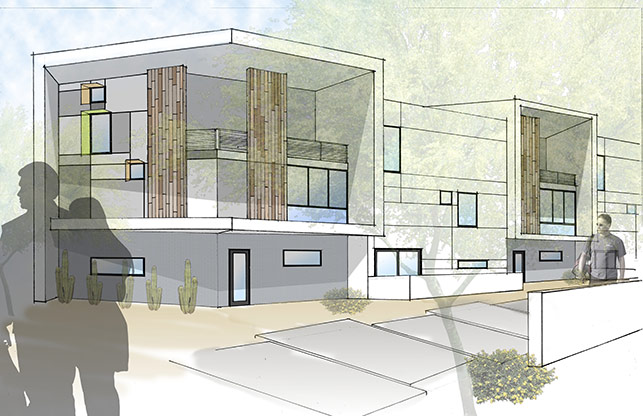 A rendering of the upcoming Grand Avenue Lofts in the Triangle Neighborhood