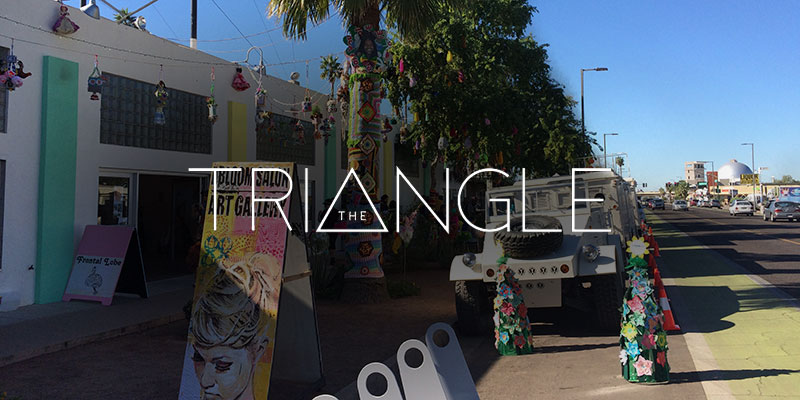 16 Dec

My PHX Story: Triangle Neighborhood Residents

Editor's Note: The Triangle Neighborhood is a newly formed neighborhood organization just west of Downtown Phoenix. It is bounded by 7th Avenue, Roosevelt on the north, and the triangle is formed by Grand Avenue. See the neighborhood map.

Whether it's where they're laying down roots or building a business, three residents of the Triangle neighborhood were attracted to the area that's going through a 180-degree transformation. This is their angle on the up-and-coming neighborhood.
The perfect place to put a roof over your head
In search of a place to call home, both Kara Carwell and Jeanine Divis were drawn to this neighborhood because it offered a true sense of community and a place where they could call home.
Kara says, "Five years ago, I moved to Arizona from the Wrigleyville neighborhood in downtown Chicago for a new job opportunity. I was in search of a community where I could give back and actually get to know my neighbors, but still experience the vibrant, eclectic feel that only a big city neighborhood could provide." While her husband, Jake, and Kara were originally in search of an investment property, they found the community they were looking for when they stumbled upon the Triangle neighborhood.
Looking for a property that offered affordability, walkability, storage and a spacious yard, Jeanine has a similar story. "To be honest, I knew nothing of the Triangle when I started my search, but once I discovered it, I knew it would be home," she explains.
And the ideal area to invest in
Ashley Harder, a community-focused developer, has been interested in neighborhoods — just like the Triangle — that make up the downtown core since she moved to Phoenix. From its proximity to downtown and accessibility to the rest of the Valley to its strong community of creative, talented people, many things make Triangle desirable.
Ashley explains, "There's also a lot of growth in the area with a number of opportunities for creative, infill development — like the Containers on Grand project and White Stone Studios — as well as smaller-scale and human-scale buildings to work with, including great potential for adaptive reuse projects, like my latest project, Carline Center." A development currently in progress, Grand Avenue Lofts, is also playing an important role in shifting the area.
"The juxtaposition of the Triangle's edgy housing projects and historic bungalows impressed us," adds Kara.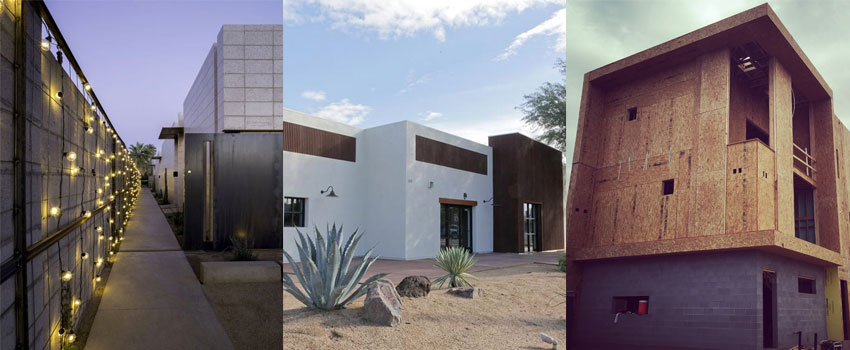 It's a vibrant community with an impeccable combination
Jeanine says that the Triangle, "…has the ideal ratio of businesses and residences, new and old homes, long-term and recent residents, families and singles and artists and desk jockies."
"The Triangle's energy and appreciation for culture and the arts can be felt as you walk down each block through the area's local murals, trendy shops, cool cafes and local pubs — not to mention the many galleries featuring local artists," adds Kara.
Ashley agrees, stating, "This area contains both charm and great stories of its past." She illustrates, "The neighborhood's small size also allows for these stories to be told and there's easy communication between property owners, residents, business owners and developers."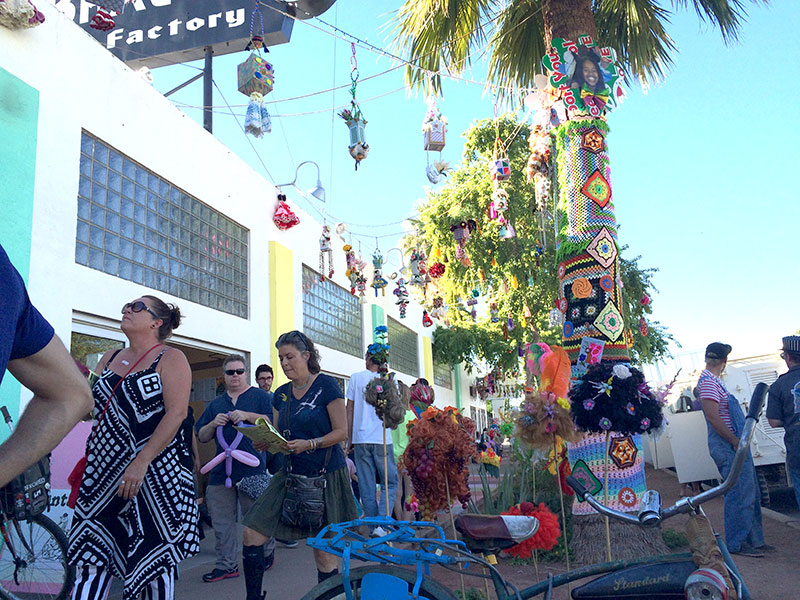 Kara sums it up, saying, "This urban pocket has a unique atmosphere and strong sense of community that you get a taste of and find yourself continuously asking how you can join the movement to help the neighborhood celebrate and continue its transformation."
That's sparking a comprehensive conversation
Ashley cautions, "I believe, given what we've all seen happen along Roosevelt Row, the Triangle and Grand Avenue neighborhoods are incredibly fragile right now and all stakeholders need to keep their finger on the pulse." We know that this is a desirable place to build and develop property for all of the reasons stated above, but, as Ashley warns, "…we must pay attention."
She adds, "The short and long-term goals of residents, building owners and businesses need to be organized and vocalized now, so everyone who is here can help shape the neighborhood's destiny." Illustrating, she says, "I believe Jane Jacobs said it best in The Death and Life of Great American Cities when she said, 'Cities have the capability of providing something for everybody, only because, and only when, they are created by everybody.'" We, the residents of the Triangle, could not agree more.
Jeanine concludes, "The best thing about the Triangle is that it has an active group of renters and homeowners that care about preserving its character while improving its safety."
With concerned citizens, a genuine sense of community and a commitment to culture and character, it's no wonder that Phoenix Magazine predicts that the Triangle will be one of the hottest neighborhoods in 2020.