About This Project
In May, 2012, a panel of judges –two investors and two developers –assessed 6 projects in a trial-by-fire pitch session conducted before a live audience of about 60 sustainability experts, city stakeholders and community members. This was the genesis of the Project Rising Urban Infill Accelerator, guided by its founders' vision for the future of Phoenix and respect for education, insight and action! Below you can learn about Project Rising Phoenix and the first 6 projects from the pilot program.
About Project Rising Phoenix
Project Rising Phoenix pre-selects project sites from a collection of vacant lots and underutilized buildings, and test their best use through pre-development studies and community input. They launch a call for project ideas for these sites to developers, professional groups, and the public. The selected projects are incubated in their accelerator program, including valuable education and mentorship initiatives, to become bankable projects. Once completed, the project concepts are presented to investors and developers for adoption.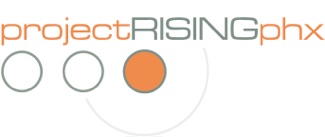 Project Rising is creating a laboratory for an innovative approach to project development. Their goals: to make Phoenix, Arizona a leader in urban redevelopment, to be a hub for gathering talent and attracting investment dollars in our community and to provide a replicable model for our region and beyond.
Over the next three years, Project Rising will produce five cohorts of project originators that will produce 34 redevelopment projects. With less than $2 million invested in program operations, these 34 projects will have the social impact of turning spaces to fill into places to be with an estimated economic impact of $60 million in local projects creating over 1,000 jobs.
Live at the Fillmore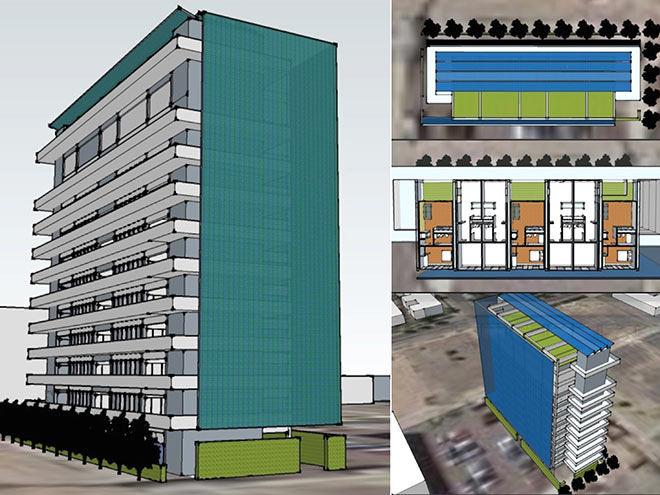 Project Team Members: Paul Bakalis, Shane Binus, James McLemore, Mitchell Mastrin, Wayne Haggstrom
The Mixed-Use Student Housing project is an urban, living-laboratory in downtown Phoenix, Arizona. "The proposed property is approximately .25 acres, oriented along the east/west axis with the urban center of downtown Phoenix to the east as well as campuses for Arizona State University, Northern Arizona University, and The University of Arizona. This project is a living experiment and is made of recycled shipping containers, is carbon neutral, and is Net Zero Energy meaning it generates all of its power needs with passive and active alternative energy systems.
Urban Parks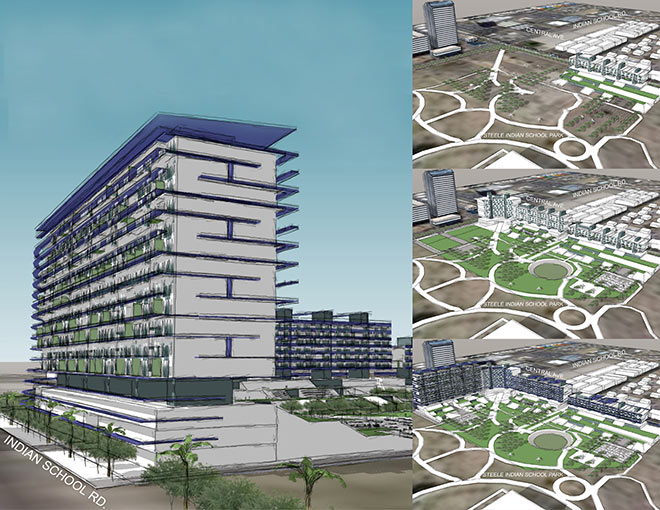 Project Team Members: Brent Armstrong, Sam Bollinger, Wade Jarvis, Vince Scarfo, Jhenifer Krutz, Maria Suniga-Cadavid
Urban Parks is a large development in mid-town Phoenix, on a unique site located between the urban infrastructure found on the Central Corridor and the under-utilized Steele Indian School Park. The project aims to increase the use and visibility of the park by improving the access, amenities, and alternate transportation methods. Urban Parks proposes a mix of residential, retail and community functions, with sustainable design solutions and technologies resulting in an iconic atmosphere that focuses on place-making and community interactions.
Biltmore Quarter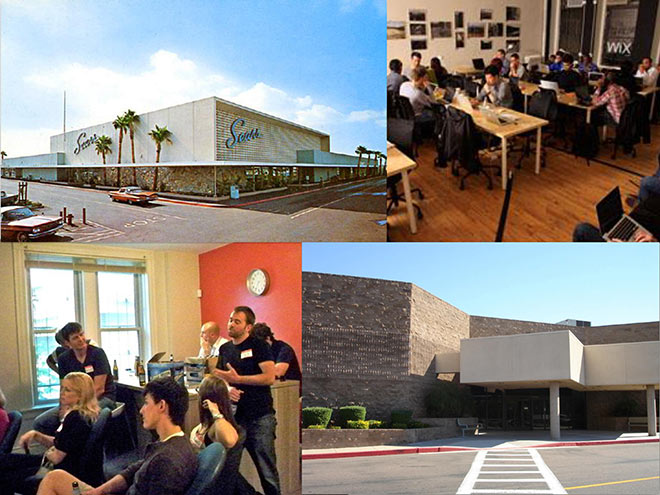 Project Team Members: Peter Newton, Eric Voise, Bruce Love
Through collaboration, we create community, revitalizing a resting neighborhood. We envision a new economic engine comprised of collaboration and community, in contrast to the silos and stodgy dependence on the next tourism and land development boom. We have the talent in this Valley to create an economy to compete with the Atlanta's, Denver's, Houston's, Austin's, and Dallas', we just need to work together to create it. The community we seek to create is based on the idea of the 4 Es: Equity, Economy, Environment & Aesthetics. We believe that innovation breeds intension, this requires education, entrepreneurship and creative workspaces.
The Velodrome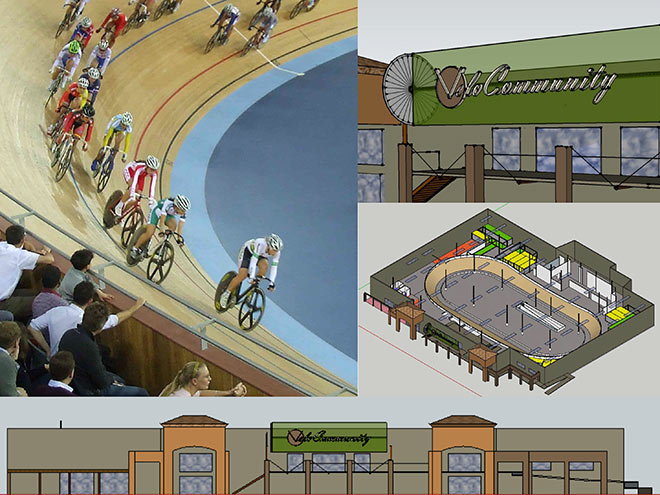 Project Team Members: Russell Marcellus, Greg Hemmerlin, Ben Tan, John Nania
Affordable recreation and education facility, with a mission to provide for a safe, fun and healthy exercise option for our youth as well as multi-generational age groups. A "safe place" for both youth employment and adult mentoring of the next generation in art, math, science, reading and general life skills as well as youth enterprises, businesses, activities and/or projects. The first facility of its kind in Arizona serving the local community with a "green" grass roots effort.
Vesta EcoHybrid Living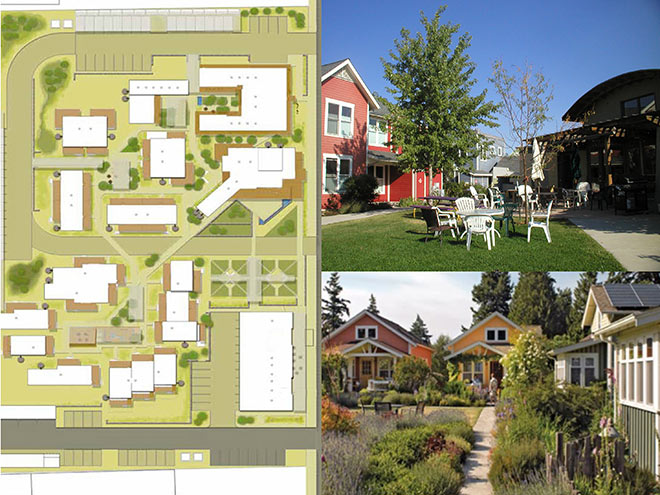 Project Owners: Donna Niemann, Claudia Hartman
Project Team Members: Michael Quattrone, Adrian Marian, Katrina Shum, Martin Duggan
Vesta offers a thoughtful prototype for the next generation of Urban Community living that is intergenerational, economical, well-designed and sustainable. It is targeted to the rising tide of millennials, singles, women, families and elders interested in the benefits of community based living. The master plan for this community is organized around 5 pods that includes an ElderCare Home, Singles pod, Family pod, Semi-private singles pod, Third Place Common House, and commercial/retail space with live/work studios. It is a neighborhood of the future based on the values of the past.
Vertical Agriculture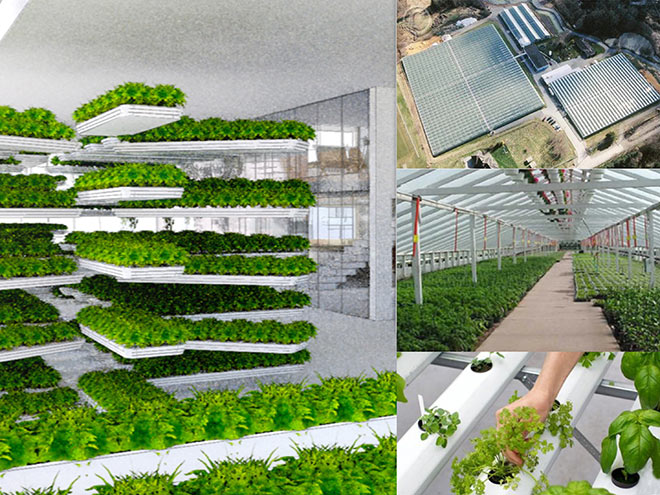 Project Team Members: Ben Montclair, Steve Anderson, Kimberly Trotta, Mark Copland
A phased approach for an innovative vertical agriculture facility, intended to reduce cost and minimize risk.
Phase I: Prototyping with greenhouses Develop a greenhouse infrastructure, which involves all the processes that would be housed in a dedicated vertical agriculture facility: water, power, labor, feedstocks, automated lighting, automated ventilation, effluent management, processing and storage, etc." The objective is profitability while fine-tuning the systems and processes such that they may be programmed into a vertical agriculture facility and provide adequate data to inform the pro formas on such a project, scaling effects notwithstanding.
Phase II: Vertical Agriculture
Having developed the prototype in Phase I, we will be able to calculate whether the system will scale well from greenhouses to a vertical structure." If it scales, the we will have a business case to pursue." If not, we have a working greenhouse facility to develop or exit, which ever yields greater benefit to shareholders.