22 Oct

What Does Urban Infill Mean to Downtown Phoenix?

Words like urban infill get thrown around a lot in conversations about Downtown Phoenix, and really any modern city for that matter. But what is urban infill? According to the Sustainable Cities Initiative, it's defined as:

[quote style="default"]… new development that is sited on vacant or undeveloped land within an existing community, and that is enclosed by other types of development. The term 'urban infill' itself  implies that existing land is mostly built-out and what is being built is in effect 'filling in' the gaps. The term most commonly refers to building single-family homes in existing neighborhoods but may also be used to describe new development in commercial, office or mixed-use areas.[/quote]

We like to think of urban infill projects as the missing puzzle pieces to a city's success. That missing puzzle piece helps to bring about more density, walkability, amenities, and healthy and lively lifestyles.

Urban infill…
fills in the vacant lots that have been deserted for so long
revitalizes areas that are eyesores or unsafe
builds and sustains successful communities by adding density and amenities
increases the attractiveness and property value of surrounding areas and neighborhoods
Prevents undeveloped land from being unnecessarily developed
Helps retain historic buildings by filling in between them instead of demolishing them
Gives a city added character through building designs that creatively fill in awkward spaces
Why Urban Infill in the First place?
The best way to understand urban infill is to understand it within a greater context, which deserves a blog post (or 50!) of its own. But for brevity's sake, here's one paragraph:
After the completion of World War II, Americans were feeling the promise of new beginnings and so started the Great Migration of the century. The migration from the city to suburbs, that is. With the hope of safer homes, individual pieces of land, and cheaper costs – it was, at the time, an ideal shift. But the cities people fled in droves from were left barren and vacant. This, in the most simplest of descriptions of a complex event, created cities that we're all too familiar with today: the downtown ghost town. Land was left undeveloped in the beating heart of cities, while newly minted 'suburbanites' tended to their lawns and large pieces of land miles away from the core. Now that's all shifting with revitalization happening nationwide, but this is a fact that informs our current situation.
This is where urban infill comes in. These vacant spaces are all opportunities to start fresh and create the city–and the amenities– we want. Grocery store, anyone? We need that. Urban infill is the process that would get it done. Public park? Community garden? Multi-family condos? Urban infill is what fills in the gaps of a city and is definitely a term we all need to get familiar with.
Urban Infill Projects in Downtown Phoenix
Nowhere in the Valley is the need for urban infill more apparent than Downtown Phoenix. Now that we know what it is, let's look at a couple of urban infill projects transforming Downtown Phoenix.
The Lot: What Should Go Here?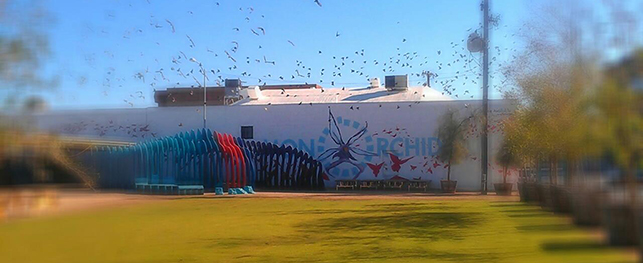 This is one of our favorite projects since it is a public space and is so aptly named. It is right in the heart of Roosevelt Row, and acts as a community gathering space and park. It evolved from an empty dirt lot to a place where concerts are held, community dinners are eaten, and a variety of other events take place.
Learn More: https://www.facebook.com/What.Should.Go.Here
Photo Credit: Brenda Eden
Project Rising Phoenix

Project Rising Phoenix is an urban infill accelerator. This isn't an actual existing urban infill project per se yet, but they will in the near future! This is a group that connects the dots between an infill concept, designers, investors, and developers – helping a project become a reality without the normal hoops to jump through. Project Rising Phoenix is most definitely an organization to keep an eye on for urban infill projects over the next year and beyond.
[quote style="default"]Project Rising is creating a laboratory for an innovative approach to project development. Their goals: to make Phoenix, Arizona a leader in urban redevelopment, to be a hub for gathering talent and attracting investment dollars in our community and to provide a replicable model for our region and beyond. Over the next three years, Project Rising will produce five cohorts of project originators that will produce 34 redevelopment projects. With less than $2 million invested in program operations, these 34 projects will have the social impact of turning spaces to fill into places to be with an estimated economic impact of $60 million in local projects creating over 1,000 jobs.[/quote]
Learn More: http://www.projectrisingphx.org
Union at Roosevelt

We're excited about the new Union at Roosevelt project since it provides some much needed residential housing in Downtown. Also, it will be mixed use so it will allow for some retail and restaurant space right at the Gateway to Downtown. The project is being developed by Metro West Development and funded in part by the Sustainable Communities Collaborative, both organizations who are paving the way for successful smaller developments like this throughout Downtown. The current vacant lot has been left empty for 50 years, so it's about time for this great change for Roosevelt!
Learn More: http://downtowndevil.com/2013/08/29/46720/union-roosevel-development-sustainable-communities-collaborative/
University of Arizona Cancer Center

Construction for UofA's new cancer center started in February 2013 and is a great example of urban infill. ASU started it all off with tons of development when they created their Downtown campus, and UofA is now jumping on board to the attractive location with vacant land and numerous other medical and educational sites surrounding it.
[quote style="default"]The 220,000-square-foot, five-story, $100 million facility will offer comprehensive cancer services, including infusion, radiation oncology, diagnostic imaging, endoscopic/interventional radiology, a women's center, specialized cancer clinics, patient wellness and support services, a prevention/executive health clinic, clinical lab space and other related support spaces.[/quote]
Learn More: http://www.downtownphoenixjournal.com/2013/02/21/wire-university-of-arizona-breaks-ground-for-new-cancer-center/