25 Sep

A Better Block is Coming to Phoenix

Imagine a perfect day riding your bike down a street lined with trees and endless shade, you wave to a friend who is enjoying a cup of coffee outside your favorite café. The sidewalks are busy with neighbors exploring the different shops and enjoying the sounds of the street performers. You make a stop at the market before hopping back on your bike to zip home.

Now, imagine a similar street here in Phoenix…not many to choose from right? We find ourselves hopping in our cars to drive long distances just to go to the mall or to buy groceries. Many are taken aback by the sight of someone walking down our hot, unsafe streets.

So what can we do as a community to change the way we live in Phoenix? What can we do to activate our sidewalks and to get people to really live?

First, let's stop thinking and start doing! Local community activists have come together and decided to do just that. Better Block PHX is coming, and we'd like you to join us in bringing the Phoenix streets to life!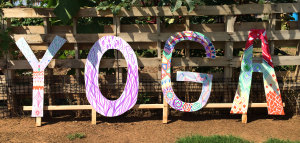 This Saturday, September 27, we will be taking over 1st street between Pierce and Garfield to display the potential of a vibrant neighborhood center. Come enjoy this free demonstration between the hours of 11am and 4pm. The event is nestled perfectly within the events of the Public Market and the Chile Pepper Festival. Take pleasure in yummy food carts, a free yoga class, pallet garden building, bike demonstrations and so much more! We would love to see you and hear your ideas on creating Phoenix streets that thrive!
What You'll See on Saturday
Bike Demonstrations
Free Yoga Class (family friendly!)
Street Performances
Hula Hoop Class
Urban Garden Building
Bird Whistle Booth (you have to come to find out!)
Bike Tune-Ups
Art Gallery
Photobooth
Mobile Karaoke
Archived Drawings of the Area
Public Art
Interactive Creative Installations
Education Stations
Vendors
Food
Blend Smoothies
DogFather Hotdogs & More
Jewelry & Apparel
Other
Together Farms (Soaps)
What is Better Block PHX?
The concept originates from the Better Block project which started in 2010 in Dallas' Oak Cliff. Community organizers, neighbors and property owners joined forces to renew a block in an underused neighborhood corridor. The vacant buildings and wide streets made for the ideal project. Instead of hoping for change, the community made the change themselves. They transformed the block by implementing bike lanes, café seating, trees, and pop–up businesses. The project was a success and has inspired Phoenicians to take on this challenge and demand change.
Better Block PHX is our vision of what we think our community should be. It is a way for us to better utilize our city. It allows for that third space, it creates happier people and a better quality of life. The more people outside, the safer our streets will be. Our goal is to have our temporary complete streets become permanent.
Watch this great Ted Talk from Better Block founder Jason Roberts to really get a feel for the grassroots, boots on the ground attitude that Better Block events always have.