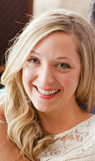 There are some influential people in Phoenix that just really stick with you. Whether it's community activists like
Kimber Lanning
, DJs like
Sean Watson
, or the smiling face that always greets you at your favorite coffee shop , they are the type of people that make you think: 
They are what makes Phoenix cool. 
Matthew and Rebecca Fritz of
Sutra Midtown Yoga
are those people. Ever since I stepped into Sutra a three years ago, I was in awe of their daily motivation to give back to their community, their positive attitude, and their aspirations for Phoenix. When I learned a little more about their Phoenix story (they dropped their big city 9 to 5's to start a business and a family in the Coronado Historic Neighborhood), I realized they weren't just
those
people to
me
, they were a major inspiration to
everyone
that came in contact with them. So, I asked Matt from Sutra to share what it was like to start a business and raise a family in Midtown Phoenix with This Could Be Phoenix. The following is what he wrote. -Courtney Craig, Outreach Director of This Could Be PHX.