28 Oct

How I Live in 160 Square Feet of Space

My story revolves around my desire for a simple, sustainable lifestyle, and around some key decisions I have made that impact everything I do.

In the lexicon of sustainable buildings, place may be the most important decision you make about a living space. In choosing your location and orientation, you will establish the environmental variables that you will relish or fight in every decision thereafter. These variables might be the outdoor temperature, the path of the sun, noise and air pollution levels… or daily life issues like distance to schools, public transit and the nearest grocery or great restaurant (often captured in an index measurement called walk score.) Of course, it all translates back to the currency of energy used (or dollars spent), with the desire to use resources effectively. Plus, of course, it's important that you are happy with where you live.

For one, I chose Phoenix.

That was my first major decision. In 1998, after years of corporate work that included ten significant moves, I decided to choose a new hometown.  Phoenix won me over —  a place that has beautiful year-round climate, an open sky, and enough opportunity to fill a lifetime. There is an atmosphere here that made me want to rise with the sun, to stop and appreciate the sunset, and to enjoy dinner under moonlight. Over the last fifteen years, a stream of people, cats, and projects have flowed through my life, with the backdrop of this great desert city. In recent years, I've been swept up by the whirlpool of downtown urban change. By choosing Phoenix, I've been able to pursue a life rich with friends and experiences, while progressing toward a simple sustainable life.
I live in a very small space.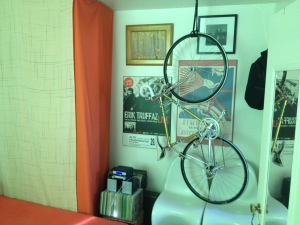 I first discovered my little space, a converted garage behind a mid-century house, about three years before I moved there. It's concrete block, sturdy and super simple. Somehow, it got filed away in the 'really cool ideas' section of my brain, and I decided to move there in early 2012 after Taz and I decided to split up. My space is affectionately called 'Bus Stop,' reflecting the easy access to the '60' bus line in the front yard. If only the bus stop structures here weren't such a monstrosity in beige (a great opportunity for future public art!).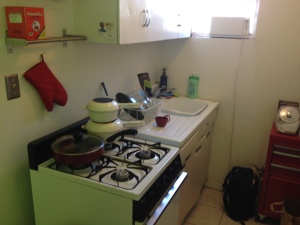 My living space is a cozy one-hundred-sixty square feet, with overall dimensions of about eleven by fifteen. There is a vintage metal sink and cabinet unit in the kitchen, next to a small gas oven and range. There is a small tiled bathroom, with a small walk-in tiled shower. There is a small refrigerator, only about four cubic feet.  My only extra storage is created in the corner of the living space, about fifteen square feet behind hanging orange curtains. My small closet holds my small wardrobe, and I have pared down to five pair of shoes. My largest possessions are my three bikes, which live inside with me; one bike hangs from the ceiling.
Clearly, small begets small. I've been amazed by the impact on my lifestyle. Simple meals and daily shopping. A much greater recognition of my belongings.  Reduction and re-use. A much stronger sensitivity for the excesses of stuff and waste in the American lifestyle.
And yet, in this small space, there is a deep sense of abundance in my life — perhaps in recognition of how little I require to be sustainable.
I live near downtown.
I love urban life, and after a brief stint in Mesa (which was remote but beautiful) I found my way to downtown Phoenix in about 2001, living first at Portland and Central in the dark days before light rail. There I had a beautiful little loft space, at about 500 sf with high ceilings…  and this was the point at which I knew the power that small spaces held for me. Over the next ten years, life in midtown and downtown Phoenix offered many new opportunities for coffee culture, great restaurants, and an appreciation of the mid century modern gifts of Phoenix.  I've always appreciated the easy access to the symphony, music and the arts you find  in this city. And the options continue to grow!
My decision to live in a small personal space has put a premium on those 'third spaces' that sustain community. What a vital part they play in my sustainable lifestyle, and to the vibrant growth of Phoenix!
I do not own a car.
If you spend time in downtown Phoenix, you have likely seen me on my bike. Perhaps we've met on the Metro, or the bus. They are all an integral part of my lifestyle. Just over three years ago, I made a rapid transition from car-heavy to car-light to car-free.  The decision process was easy and natural, and made ripples of sustainability throughout my life. As an example, I live off of an alley, and have never needed a parking space. I never pay for parking anywhere. My grocery bill is seldom over twenty dollars. I do not need a health club membership, and I imagine that I emit very little greenhouse gas.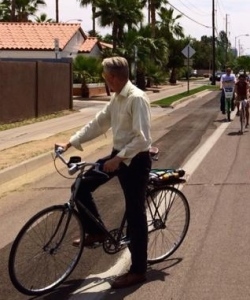 I have great rear baskets on my Schwinn Collegiate and have developed reliable methods for my regular routines:  carrying my computer and briefcase, laundry at the laundromat, groceries at Bashas', refilling my three gallon water dispenser. All very possible on a bike! Moreover, the process involved encourages me to shop only as needed, has deeply affected my priorities and somewhat modified my self-image.  As a general rule, I do a much better job of focusing on who you are, not what you have.
My bicycle and I are frequent, daily riders of public transit in Phoenix and throughout the valley. Through familiarity, I've become a pretty efficient user and appreciate the value of these services.  And although I recognize the warts in our public transit, and struggle with our very limited bike infrastructure, I also realize that increased participation is our best path to excellence.
If you care about sustainability in Phoenix, I encourage you to choose your bicycle for more of your routines, and ride all these modes of transit more often. Actions give each of us a strong voice in change-making!
City in progress. Life in progress.
Riding my bike through the streets of Phoenix, I feel a real connection. We've both changed quite a bit over the past decade, and I think we are getting smarter and more sustainable with age.  While I don't know the next chapter in my story, I do firmly believe that everything affects everything, and that my wonderful life in Phoenix has shaped who I am today, and who I will be tomorrow.