28 Jul

No Car? No Problem. 5 Alternative Ways to Get Around Phoenix

It's no myth that Phoenix is a car-centric city. With streets in the heart of our city as wide as 8 lanes, it can often feel like owning and driving a car is the only way to get around. Have you tried walking down Indian School road lately? The very street itself doesn't encourage anything but traveling on top of four wheels with a tank full of gas. And that's not the only street that can tell the same story.

When I moved back to Phoenix 3 years ago, I moved closer to the light rail in order to be able to diminish as many car trips as I could, but the reality of Phoenix, and the convenience factor of having a car on our city streets (in addition to the fact I had no auto payments) left me with no other logical choice but to keep my car. I always loved the idea of living in a city where I didn't have to own a car, but Phoenix wasn't really that city.

That is, Phoenix didn't become that type of city until the decision was made for me. My car was stolen in November of 2013, and that was impetus enough for me to try a car-less lifestyle in seemingly one of the most un-friendly cities for such a lifestyle. You can read more about the story of my decisions and how I'm making car-free work for me in Phoenix on my recent blog post: "How I Live and Work without a Car in Phoenix, Arizona."

Like I mentioned in my past post, a no car life isn't for everyone. It just won't work for many people (especially here) and I totally get that. I happen to have my work and personal life all within a small radius and choose to live in an area of the city that has the infrastructure for car-less trips in place.

My main point here is not that you should ditch your car… it's that it is possible to get around Phoenix, Arizona without necessarily owning a car. Also, if you do own a car but just want to drive it less, you can!

You just have to do a little research, plan further ahead, and not always default to the ever tempting convenience factor. Most of what you'll see here really only works around Central or Downtown Phoenix. If you're in a suburb, you'll have to get even more creative.

I've met many people who are either:
Amazed that is is even possible to get around the city and can't even fathom how I do it.
Hesitant but very interested in either becoming 'car-lite,' a one-car family, or even completely car-free.
This list is for all of you who just want to know how it all works and see if you can somehow integrate a few alternative trips into your lifestyle. If you have any questions, feel free to shoot me an email and we can chat.
1. Bike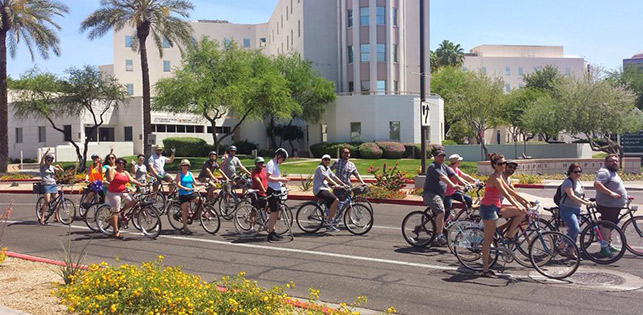 I list this first because my bicycle is my main mode of transportation. I happen to live in an area where bicycling is easy, fun and tuned into a great community with groups like Phoenix Spokes People working to make the culture more apparent to hesitant bikers and drivers alike.
How I Use It & Where I Go
I bike for my daily trips to get to coffee shops that double as my office for work. I also use it as a means to connect to the light rail for longer trips that would be a bit out of reach for biking on its own.
Why I Like It
I could go on forever, but relaxed, commuter-style biking has always been an ideal of mine and I've finally been able to make it a reality in Phoenix. I like that on a bike I become a direct part of the fabric of the city rather than observing it from behind a wheel.
Price
Other than your initial bike purchase and minimal costs for maintenance once in awhile, this mode of transportation is easy, breezy, and free!
2. Feet!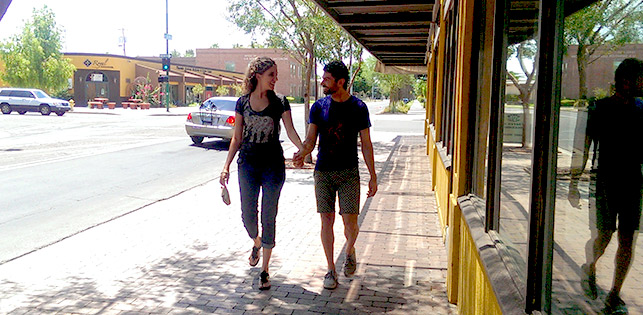 My second favorite means of getting around. I became obsessed with the idea of walking around a city when I traveled to Europe and lived in London, and I think it's one of the best and easiest ways to get to know a new city and its culture.
How I Use It & Where I Go
Short trips around Downtown to either get somewhere or just to walk for walking's sake. Walking from my apartment to the core of Downtown Phoenix near CityScape takes about 20 minutes. A perfect walk to do at night or with visiting family and friends.
Price
Maybe it costs me a few more trips to the shoe store for new kicks periodically, but I can't complain about that 🙂
3.  Public transport (bus, light rail)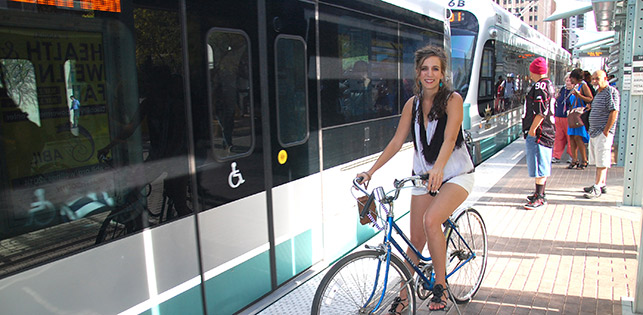 The light rail has truly transformed Central Phoenix, and is a reason I ended up staying here. I haven't used the bus in years as light rail really gets me where I need to go, and living 2 blocks from it doesn't hurt. To learn more about riding transit in Phoenix, check out this article from community member, Daisy Day.
How I Use It & Where I Go
Going out of Downtown to my Midtown yoga studio or Uptown for dinner, work, or other events. I also periodically use it to get further afield to Tempe. Also, I bike to the light rail and then get off around 38th and Washington which places me about another 10 minute bike ride away from my volunteering location. Most of my life is about 10 minutes off the light rail!
Price
$2.00 for a one-way ticket that gives you 2 hours, or a full-day ticket for $4.00. I spend maybe $6-$10 a week on the light rail.
4. Zip Car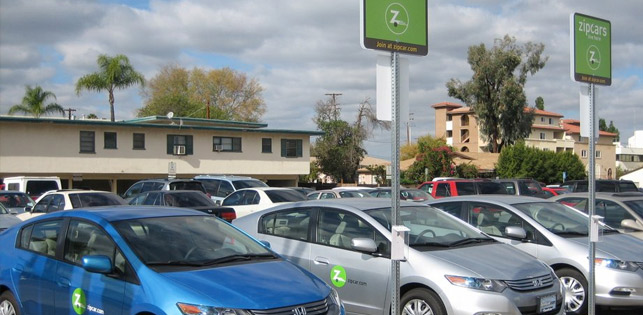 Not owning a car doesn't mean I never get in a car. It's Phoenix after all, and distances and infrastructure isn't anything like other big cities. Sometimes I need to get a little further afield and ZipCar is an ingenious service everyone should try out some time.
How I Use It & Where I Go
I own my own business, so I often need to meet with new clients or visit the offices of my existing ones. Zipcar is great for short durations – 3-4 hours is usually what I rent it for. I bike to 1 of 3 locations at ASU Downtown
(5 minute ride from my apartment), lock up my bike, and hop into a car and go. I mostly go to North Phoenix or Scottsdale or sometimes the East Valley. Also in the summer, biking to the nearest grocery store is a bit too much over 105 degrees, so we rent a car for an hour to get our food for the week.
Price
The most expensive element of having your own car is the ownership costs itself. So Zipcar is a great way to get around that and is pretty cost-friendly if you're only using it once maybe twice a week like I do. It breaks down to about $11/hour for rentals, and there is a $75 yearly fee. Big bonus: Insurance AND gas is included in all that. When I was using Zipcar more regularly, I was spending (depending on how busy my month was) between $80-$160 a month.
5. Ruby Ride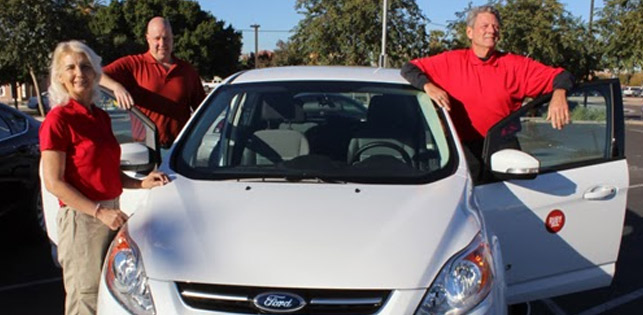 I've since switched from using Zipcar as my main means of getting to meetings and have been very happy so far with local startup, Ruby Ride. Instead of paying by the hour, I have a monthly subscription that I can change or cancel whenever I need to. When I spend a whole day at a client's office, I'm not paying for a Zipcar to sit in a parking lot all day. Ruby Ride's service and prices appeal to a commuter type like me, unlike the more pricey (but still great) Uber or Lyft that appeal to short trips or nightlife outings.
Also one of my favorite things about Ruby Ride is I don't have to drive!! Personal drivers pick me up in brand new cars and whisk me away to my location. For someone who has a hard time driving after barely doing it for months, this is a major plus.
How I Use It & Where I Go
To get to clients, appointments, etc. that are just outside of Central Phoenix but not by far. Ruby Ride is still new so they mainly service Central Phoenix, but have a smaller number cars in Sun City and Scottsdale. I schedule all my rides in advance and the customer service is very friendly. Drivers are always very nice and the cars are clean and fully insured.
Price
Since Ruby Ride is a subscription based service, this can change depending where you need to go. They have a monthly subscription that gives you unlimited rides around Central Phoenix for $299. I only needed rides to specific locations just outside of their zone, so they set me up with a subscription around half that.
So there you go folks…how to get around a hot, sprawling city without owning my own car. It can actually work and I'm pretty surprised I'm the one writing this post and living it. But since I'm now all in, you can take my ideas and make them your own. Maybe it just means starting small, and replacing one weekly trip with an alternative means of transportation, and seeing how that goes. Report back to me and let me know about your experience!