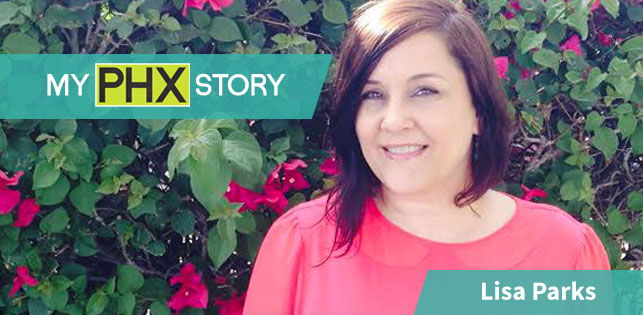 02 Apr

My Phoenix Story: Lisa Parks

Ten years ago, I left the San Francisco Bay Area and moved to Phoenix to live closer to my parents. They had retired to the Verde Valley from Michigan and I hadn't lived near them in sixteen years. As beautiful as it is, San Francisco never felt like home.

That place was reserved for New York City, where I spent most of my twenties and half of my thirties. It still feels like my hometown, even though I lived in Michigan until just after college graduation. I felt like I really grew as a person when I reached Manhattan and I fell in love with that city. But as friends got married, had children and moved out of NYC and to neighboring Boston, I found myself following them there, enjoying a wonderful two-year stint.

Having lived in all of these great places, it was easy to compare Phoenix to them when I first arrived and wondered what on earth I had just done.
The Heart Grows Fonder
My first exposure to Phoenix had me seeing sprawl, freeways, huge arterial streets, little in the way of public transportation and no walkability. Having spent many years without a car, I wasn't thrilled to have to drive everywhere. But I wanted to be closer to family and so I was committed.
As soon as I started apartment hunting, I found myself exploring the historic districts near downtown and had my first realization that Phoenix did, indeed, have character and maybe this wasn't going to be so bad after all. Shortly afterwards, I met my husband and we spent a few years living in a condo we purchased that was located off of a busy, extra-wide street in an unwalkable part of town. The light rail was still under construction and practically no one lived downtown, so it didn't seem like it mattered much where you lived in Phoenix — you would have to drive everywhere anyway. And the condo had lots of character that we thought would make up for the location.
In December of 2008, things started to finally look up for Phoenix. This was when the light rail became operational and I couldn't wait to take an inaugural ride. Restaurants and shops starting opening, the ASU campus opened and the city became livelier. Eventually, Joey and I moved closer to downtown. That's when I got a bike.
Phoenix on Two Wheels
Getting a bike in January of 2012 completely changed my life. I found all of the bike lanes and quiet routes in my neighborhood and started to use them to see where I could go. But then I wanted more. I didn't want to be confined to feeling safe on just certain routes; I wanted the freedom to get around on two wheels as easily as I could in a car. This was not the easiest task in a car-centric city, but I was determined. Riding a bike, walking and using the light rail in Phoenix finally made me feel connected to my city. I started to love living here and wanted to be more involved in making it a great place to live.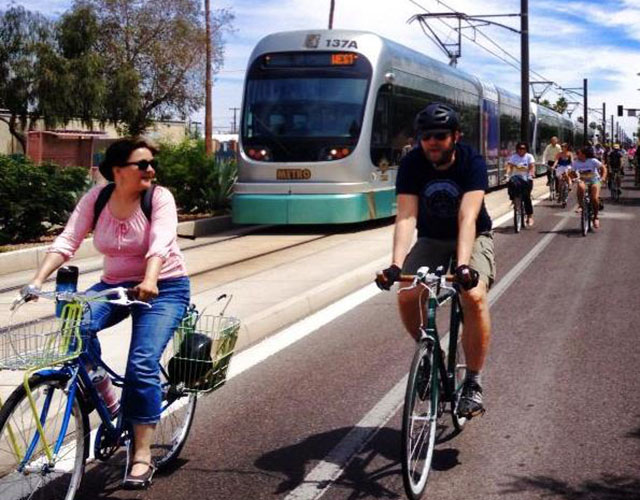 As luck would have it, I discovered that a group of bicycle advocates was being formed. Suddenly, I immersed myself into making Phoenix more bike-friendly by educating myself, speaking at City of Phoenix budget hearings every April, serving on the Mayor's Ad Hoc Task Force for the City Wide Bicycle Master Plan, helping to plan bike rides and events and doing everything possible to promote bicycling as a form of transportation.
When Mayor Stanton announced that same year at Pedal Craft that bike share was coming to our city, I just knew that I needed to be a part of it. Less than a year later, I was working for Grid Bike Share, and am so happy to see it become an integral part of the new transportation options in Phoenix.
Rolling Forward
In the past three years, I've noticed many more people choosing to ride a bike to get around, and it's exciting to see new bicycling destinations popping up all the time. Once you hop on, it doesn't take long to realize how much fun it is, how much money you can save and how much easier it is to be spontaneous or to find a place to park. With wide, flat streets that have plenty of room for protected bike lanes and beautiful weather during much of the year, Phoenix has the potential to be one of the most bike-friendly places around. As more cities realize how important it is to invest in the bicycle infrastructure necessary to attract business and talent and to generate revenue, it's now time for Phoenix to catch up. We need to fund the newly- adopted Bicycle Master Plan and create safer streets for all users.
One of the best things that's happened since getting a bike is that I've met the most amazing group of bicycle friends and downtown advocates. But I've also seen quite a few friends leave Phoenix to live in cities that have already invested in bike infrastructure and are more walkable. It's not too late to keep all the good people here, dear Phoenix. I think there will be a day when we stop saying "this could be PHX" and start saying "this is PHX." Let's not wait too long.
In the meantime, I'll see you at the April budget hearings.