About This Project
The Residences @ Central Adams is an urban infill development proposal at a key intersection in downtown Phoenix. With this development we intend to provide an urban housing option for a growing under serviced market segment, and help to improve the pedestrian experience on Adams Street. To do this we have designed an 18-story mixed-use high-rise apartment tower, including street level retail, with a restaurant/bar/patio space directly above. We intend to make this Phoenix's first authentic transit oriented residential development, and we are focused on turning commuters into neighbors.
The high-end downtown residential apartment market is growing fast, but there is a market deficiency for entry-level downtown workers who want to live near work and the vast livability and entertainment options downtown has to offer. With the help of Project Rising we undertook the challenge of trying to find creative solutions to serve this growing market segment.
As a team Jeff Sherman and Thomas Topero have backgrounds focused on urban design, sustainable architecture, construction management, international urban development, and community engagement. With this knowledge base and experience set, we have been able to create and nurture a project concept that will be unique to Phoenix, and serve as a model for servicing our city's future market needs.
Project Objectives
Exceed the expectations of, and provide partial funding for, the Adams street activation recommendations.
Create housing options for entry level workers in Downtown Phoenix.
Provide Downtown Phoenix with a mid-size outdoor Restaurant/Bar/Patio space.
Create a true transit oriented and sustainable residential building.
Highlight the landmark nature of the vintage Hanny's sign on the buildings west side, and create a fluid pedestrian experience between Adams the rest of downtown on the other.
Project Members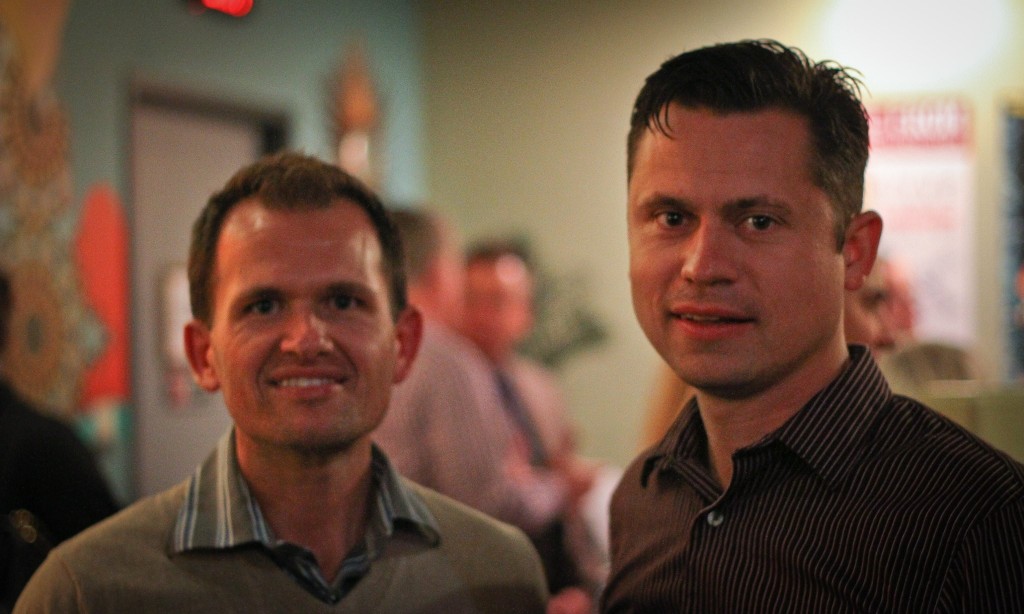 Jeffery Sherman
A Phoenix area native and son of a custom home builder/architect. He spent 11 years working for a life safety electronics business in Phoenix as an installer, senior technician, systems engineer and project manager. In 2010 he received a bachelor's degree in political science from ASU and in 2012 received a Master's degree in Globalization and International Development from The Institute of Development Studies @ The University of Sussex, Brighton England. During that degree his studies were focused on finding market solutions for urban problems in the developing world. Besides living in the UK for a year, he has been lucky enough to travel extensively, influencing how he sees the interface between people and the urban environment. Jeff returned to Phoenix in 2013, and has spent this last year taking some of these experiences and applying them to his home city.
Thomas Topero
Born and raised in Los Angeles, grew up in Minneapolis, and attended North Dakota State University in Fargo, ND earning a BS in Environmental Design and Bachelor of Architecture degree focused on urban design and sustainability. Beginning his professional career in Phoenix in 9/2001, Thomas went through several careers including architectural design, financial services, residential construction and investing, food distribution, residential energy retrofit, and project management. He is currently pursuing employment in the fields of sustainability and/or real estate development, with the goal of leading a development team to create high quality, neighborhood scale, mixed-use infill development projects that demonstrate leadership in sustainable and resource appropriate design.