27 May

This IS Phoenix: A Love Story and a Downtown Wedding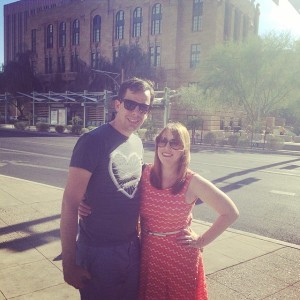 Downtown Phoenix chose us as a couple, or at least I like to think of it that way.
We met at Carly's, had our first date at Fez, got engaged at Durant's; of course, it didn't happen as quickly as that, but Phoenix certainly fostered our relationship along the way.
I lived at a studio apartment on Roosevelt Street at the time. We filled our weekends with self made brunches on the balcony, local festivals in the parks, and even purchased a tandem to cart us around the city. We were every bit in love with each other as we were with Downtown Phoenix.
Steve proposed to me on a rainy day in December. The seasonal, multi-colored string lights inside Durant's will forever ignite a twinkle in me. It was there, in that plush, red booth, we knew the only place we could get married was Downtown.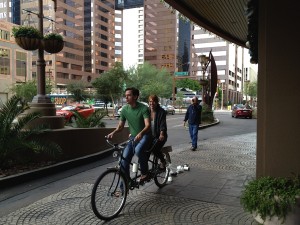 Planning a wedding is incredibly personal; yet it evokes the most colloquial standards of, "pick a beautiful setting for ceremony, and large event space for reception." Not only were Steve and I resistant to the idea of that, we felt it did a disservice to our story.
Our initial thoughts did not center around the basics of where we could get married, but what stirred the very emotions that attracted us to each other, and the city in which we lived. A few quintessential themes stuck out: we love walking, we live in a state that has beautiful weather almost year round, the architecture is unique, and, the city lights are magical. It was then that we knew we wanted to get married in Downtown Phoenix. It was unique, and it represented our relationship.
So those were our ideas, and we set out to make them happen. Rooftop, rooftop, rooftop was all that filled our thoughts. I went outlandish enough to wonder if it would be  possible to throw our big bash on the top of the parking garage next to Chase stadium. Seven stories above the ground, with drive-up ability for food trucks, ample room for guests, and the beauty of the city 360 held every bit of perfection, except the idea of actually carrying it out. We did have to be realistic after all.
That's when we decid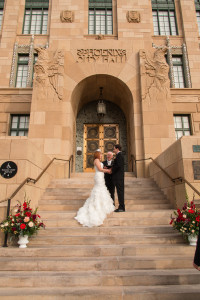 ed structure, to some degree, does keep sanity. We've always loved Hanny's, but trying to get guests up and down to the third story, unfinished (but totally awesome) loft space could not meet our criteria. We let practicality set in, and that's when we knew a Downtown hotel could actually provide what we desired. We toured only two, Sheraton and Renaissance, knowing that Clarendon was a bit small and a bit far uptown for where we were. Sheraton's "rooftop" deck space was magical, but we fell in love with the Renaissance instead.
We were beyond pleased that the Renaissance was not instantly chatting with us about dollars, and what thresholds we had to meet; because they were more interested in getting to know us as a couple, and how they could help convey all of that. We barely had to react when it came time to make a decision. Steve and I fel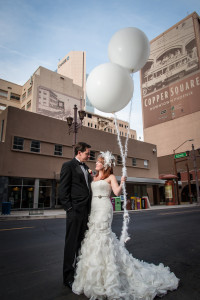 t more than comfort working with them, we knew they would do everything in their power to create the event we wanted to have and to remember.
The next thought was where to have the ceremony. We're not religious, though we wanted a setting that felt as emotional and binding. There's something so serene and equally powerful about the Historic City Hall. The building is stately and beautiful, but still gives the whimsy of nostalgia and intimacy. How many before us ran up those stairs and through the majestic copper doors to confess their eternal love?
Once we had the major plans in place, everything else really did trickle around them. How wonderful that friends and family could ride the rail, or stay at local hotels to celebrate with us? And, what a better idea than to have everyone walk between the ceremony and reception together? Everything we planned was to celebrate the city, and our existence in it, because this is where we met, and this is who want to continue to be.
Our story is intricate, our wedding details, plentiful; but when I think back, and look back at November 30, 2013, I know that Steve is mine, and I'm his, and Downtown Phoenix is ours.