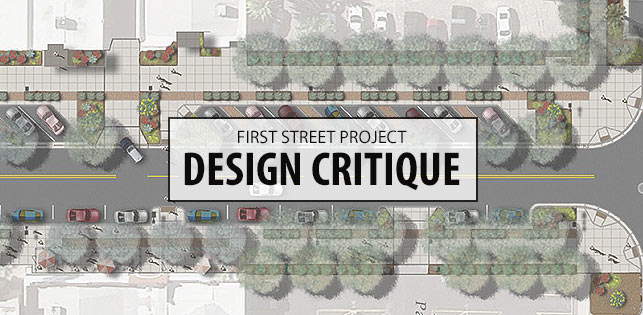 31 Mar

Upcoming First Street Project Design Critique

On March 20 the city presented the design for the upcoming First Street Pedestrian Project to the neighborhood at the Irish Cultural Center. I was there with This Could Be PHX and other community advocates. What we saw was actually more disappointing than expected. All the feedback they were given over the past four years since the Fillmore-McKinley portion was completed was ignored. Our expectations that this "updated" McKinley-Moreland design would reflect at least SOME of that feedback were completely let down.

Instead we saw the exact same design that they presented five years ago. I don't know about you, but we've learned new and better ways of doing things over the past five years. So why hasn't the City and its consultants included them in the updated design?

This project, while being called a "pedestrian project", has surprisingly little improvement for pedestrians other than an overemphasis on wide sidewalks. It also completely lacks any consideration for bicycles and still prioritizes cars to a degree that is unfit for a downtown streetscape project in 2015.

Let's also mention that the City has a Complete Streets Advisory Board that is currently working on creating design guidelines for projects just like this one, based overwhelmingly on the widely-adopted NACTO Urban Street Design Guide (USDG). It is expected that those design guidelines will be recommended next month and then begin their roadshow through the Council and Planning Commission. So I am going to juxtapose what we saw against some language from those proposed design guidelines as they stand today.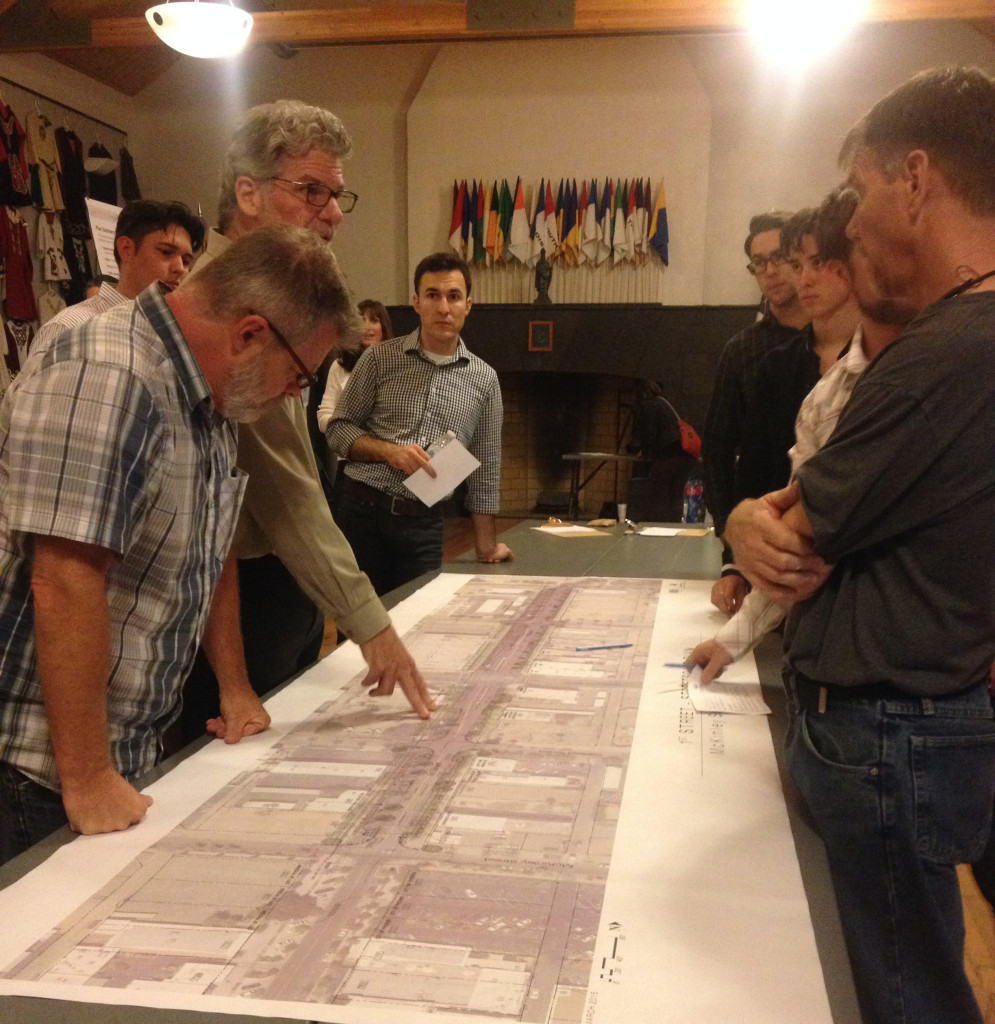 Design Issue No. 1
The vehicular thru lanes are minimum 14 feet throughout the entire design.
We challenged this design at the meeting and the consultant told us that this is the department's standard for "local streets".
NACTO USDG says, in big bold text: "Lane widths of 10 feet are appropriate in urban areas and have a positive impact on a street's safety without impacting traffic operations." It is then further emphasized with, "Lanes greater than 11 feet should not be used as they may cause unintended speeding and assume valuable right of way at the expense of other modes." On many things in this design, the City gives the excuse that their design specifications are necessary for wide buses and freight trucks. NACTO's USDG has a response to that: "Cities may choose to use 11-foot lanes on designated truck and bus routes (one 11-foot lane per direction)." So just where is this 14 feet coming from?
Design Issue No. 2
The Roosevelt intersection is being designed to have left turn lanes on each side, despite the relatively low volume of vehicular traffic on First Street that could easily be handled without dedicated turn lanes.
Note that the portion of First north of Roosevelt will never have meaningful traffic because First isn't a through street due to its dead end into Margaret T. Hance Park.
NACTO USDG says: "Limit the addition of dedicated turn lanes." In my opinion, this is the perfect location to leave out turn lanes.
Design Issue No. 3
At the Roosevelt intersection, First Street is being designed to have a 15-foot northbound thru lane, and a 17-foot southbound receiving lane (with a 10-ft turn lane in the middle, mentioned above in Issue No. 2).
Wider streets lead to faster speeds, and the highway standard is 12 feet. So if 12 feet is considered wide enough for 55 mph, what do we think the design speed of 17 feet is? (The chart in NACTO's USDG maxes out at 14 feet.) When we suggested that the stop bar be pushed back to better accommodate turns toward it, the consultant said that wouldn't be allowed by the standards. We pointed out that many other cities do this, and he looked surprised.
NACTO USDG says: "Various methods that accommodate large vehicles, while restricting the turning speed of smaller vehicles, may be used to avoid unnecessary widening of the intersection." It also shows a picture of a stop bar being pushed back to better accommodate right turns toward it.
Design Issue No. 4
There are no crosswalks planned for any intersection except Roosevelt. The City told us that since there are no traffic signals at these intersections they weren't going to have crosswalks.
NACTO USDG says: "Stripe crosswalks at unsignal-ized crossings"
Design Issue No. 5
The plan provides NO bike lanes.
Note that this is one of the widest right-of-ways in downtown at 100 feet. If the City refuses to put bike lanes here, where will it ever agree to put bike lanes? Then consider that EVERY street in downtown should have bike lanes where it's at all possible — here it's 100% possible.
One option is to get rid of the two-foot concrete strip that they are designing for people to step on when they get out of their parked cars (rather than stepping into the landscaping strip). Other cities have already realized that such design elements waste precious right-of-way and have used that space more effectively for bike lanes or sidewalks or trees. But if we reclaimed that two feet, and combined that with the 14-foot thru lane, that's 16 feet. We could then have the NACTO-recommended 10-foot thru lane and a six-foot bike lane. The downside is it puts cyclists in the "door zone" of the parked cars, which can be dangerous.
To fix that, let's look at the other side of the street. The west side of the street allocates 18 feet for angled parking. Parallel parking only needs eight feet. If the angled parking was converted to parallel parking, it would provide an additional 10 feet (five feet per side). That could be used as a buffered door zone for the cyclists. So why are the consultants coming up with a different solution? Because they are prioritizing different street users — drivers.
The City of Phoenix's Ordinance S-41094, establishing "Complete Streets Guiding Principles" directly states: "City Streets will be planned, designed, constructed, and maintained to support and encourage walking, bicycling, and transit use."
Editor's Note
This Could Be PHX is extremely passionate about Downtown Phoenix and we are always trying to show people just how great this city is and is becoming. But every once in a while we have to take a step back from our role as optimistic sponsors of Downtown to discuss important issues about our city's future. Downtown is at a tipping point, and if we don't think long and hard about some of the decisions we are making, we will tip in the wrong direction. If Downtown Phoenix is going to move in the right direction there MUST be a focus on pedestrians, bicyclists, and transit. Successful downtowns thrive on these modes of transportation, while the suburbs thrive on the automobile. It is imperative that we recognize the difference between these two built environments and start designing our city accordingly. If you read this blog and agree with what we are saying, please contact the City and demand that the First Street design be built for the modes of transportation that are most important to Downtown.