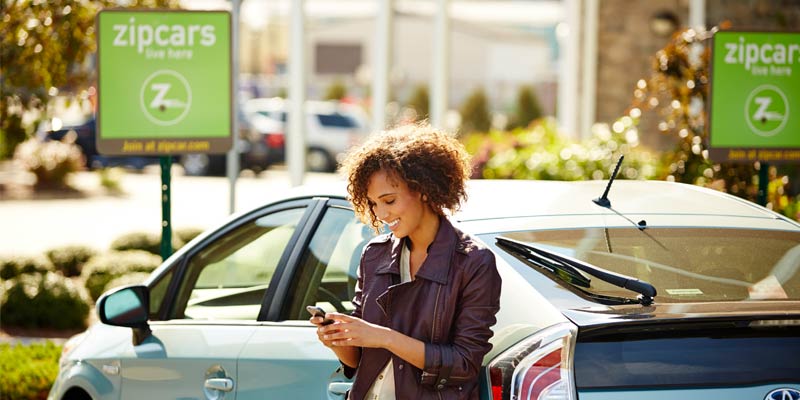 31 Aug

Dear Zipcar, Downtown Phoenix Misses You

Status Update 8/31: Zipcar provided no notice to its members about the change and have given everyone scattered non-answers since. We are still actively engaging with them via phone and email, and the Mayor's office is working to contact them and locate new spaces for its service. We hope this ends with a new Zipcar or two in the Downtown area so non-ASU people can enjoy this important urban amenity.

Update 9/1: Good news – ASU is requesting that Enterprise Car Share be available to all residents. No more details at this time.

Update 9/24: Zipcar is back! 2 cars are now located within Roosevelt Point at 3rd St and Roosevelt.

Update 11/10: Enterprise Carshare has now opened up their service to community members. Sign up here.

Earlier this month, we found out that Zipcar, a car sharing service that rents by the hour, no longer had cars in Downtown Phoenix. We were trying to book our weekly grocery and errand runs, and kept seeing that no cars were available. We figured it was just a fluke, and maybe all the cars were booked up as they sometimes are. With further investigating, we found that the cars weren't booked up… they were gone completely.

We figured there had to be more to the story and there was. Enterprise Car Share vehicles have taken the spot of the previous Zipcars. It seems like ASU signed a new agreement with Enterprise to replace their contract with Zipcar. And of course, lucky for us Downtown residents, ASU's agreement with Enterprise does not allow memberships for anyone but students or faculty…which seems like an unfortunate oversight coming from ASU, who has kept the community in mind in other instances.
Downtown Residents Miss Zipcar
Zipcar—if you're unaware of the company—is a very convenient service that provides shared car rentals to many communities worldwide and had been located at ASU Downtown since 2008. Mostly, they center around urban cores where car-free or car-lite living is a possibility. There are other similar services too — like Car2Go, Hertz 24/7, RelayRides — but they have little to no presence in Phoenix.
Ryan and I have been using the service for years now, and in fact, Zipcar was a main reason he decided to sell his car in the first place:
"I had put off selling my car for over a year, because I just didn't know if it could work. I started using Zipcar even when I still owned my car to see if it was something that would work for me. I knew after trying it out that with a reliable, easy-to-use service an easy 5 minute bike ride away, I could live without a car in Phoenix, somewhere that most people would never think it was possible. Zipcar was one of the main reasons I went for it."
I feel the same – my car was stolen, but I made the intentional choice to not buy a new car because I knew I had a reliable backup if needed. And I've heard similar thoughts from people who contacted me when I shared that Zipcar was gone on Facebook. Here's a few…
While I'd prefer to bike everywhere I need to go, it's just not always practical in Phoenix. Zipcar was one of the best ways to make convenient, longer trips across town. Since it eliminated its downtown location, I've become dependent on friends and family to get around, which isn't something I'm proud of. - Brandi Porter
Our two-person household recently downsized from two cars to one. When we decided to scale back, we knew that we would need to utilize other transit methods including a car share program like Zipcar. I don't think my household is unique in Downtown Phoenix, and I hope Zipcar can find a new home where we can utilize their service. - Chelsea Smith
The funny thing is, I actually was about to get a membership, but put if off while I moved in to my new place. So when they left the area, it really did stop me getting one. I almost wish I'd signed up for the year already, so I'd have more clout; to say, 'Look I signed up and then the next week you removed your service.' - Dave Tapley
Why Car Sharing Makes Sense for Downtown
Car sharing programs average 49 members per vehicle – I'm pretty darn sure Downtown Phoenix residents (and some ASU people who don't opt for Zipcar) can support at least one strategically placed Zipcar with the people we have here now.
If we forget about the now and look to the future, that means there will be 1,110 new residential units, which are currently under construction. Not to mention the 3,200 additional units being planned. That's 4,400 new bedrooms within the Downtown core in the near future. Many of these new residents will choose to live here for the very reason that they can live a more walkable, bikeable lifestyle. Maybe it won't be so weird to say "I don't own a car" in Phoenix anymore within 5-10 years. Car sharing services like Zipcar will be in high demand – like they already are in cities like Austin, Portland, and Seattle.
Prop 104 just passed which will fund tons of alternative transportation improvements, bus and light rail extensions. This means more people being able to get around our 6th largest US city without owning a car. Still, they will need to run errands, go to events, drive to meetings, etc. that aren't within their sphere of easy transit travel so car sharing will be a viable alternative.
What You Can Do
Even if you've never used Zipcar, but ever thought it could come in handy, we need your help requesting a service like this back in our thriving urban core.
Email Zipcar and tell them you want a new location in Downtown Phoenix. Point them to this blog and tell them there are people who can help them find some spots.
Tweet Zipcar – social can go a long way!
Call Zipcar – 1-866-494-7227 – you might be put through multiple different people like we have, but until we can get a solid answer on timelines and locations, we need to keep asking.
Comment here with your support of bringing a car-sharing service back to Downtown that's open to all residents. If you have a location idea for a new parking spot, throw that in there too!